We'll hold APC to account on campaign promises – Ekweremadu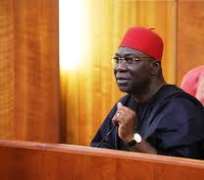 The Peoples Democratic Party (PDP) has said that despite its loss ar the 2015 general elections, it will hold the All Progressive Congress accountable to the party accountable on its election promises.
This was made known by the PDP post- election review committee led by Deputy Senate President Ike Ekweremadu, on Saturday when it paid a visit to President Goodluck Jonathan at the Presidential Villa.
Fielding questions from State House correspondent at the end of their brief meeting, Ekweremadu‎ revealed that Jonathan said it was high time all the bickering within the party stopped so as to rebuild and reposition the party.
Speaking on the purpose of the visit, Deputy Senate President said, "As you are aware, the PDP set up a committee to have an overview of our performance during 2015 election and possibly proffer a road map for the PDP to return to its past glory.
"This committee has since been inaugurated and we deemed it necessary to come back to the leader of the party to brief him on our appointment and to seek his support and cooperation.
"I would like to announce that Mr. President has given us his words that he will encourage and will support this process and that he is interested in the party returning to its past glory and that he is going to do everything to ensure that we remain intact and we also agreed that all bickering have to stop so that we have a position that will enable us to rebuild our party".
On the party not being able to manage its past successes he said, "When you have this kind of situation, the first reaction will be blame game. But I think we have been able to absorb that shock and right now I can assure you that all that bickering has stopped.
"We are now ready to rebuild our party and be able to present a credible opposition for this country that will ensure us return to power in 2019.
"We are ready to hold the new government accountable and make sure that the promises they have made that we will be able to benchmark each of them appropriately so that it will not be that they have deceived Nigerians and got their votes.
"They are going to account for their statements, their promises. We will hold them accountable to all the promises", he said.