APC USA Condemns President Jonathan's Board and Parastatal Appointments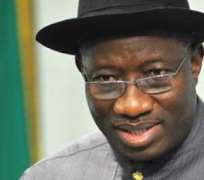 It has come to our notice the excesses of President Jonathan's appointments of Board Parastatals and Directors knowing fully well that his days are numbered, and he should be cleaning up his mess in the Aso Rock, leaving no prints on the wall of The Presidential Villa. We do not want imbedding problems for APC lead flag bearer General Muhammadu Buhari and his second in command, Prof Yemi Osinbajo. These appointments are yet evidence of the recklessness of Jonathan and his party, PDP. When the news broke that President Jonathan conceded defeat without delay and unnecessary challenge, we applauded him and attributed the action to wisdom, which coming from unlikely source was refreshing. The appointments which is blatant attempt to sabotage his successor should not go unchecked, in fact, it should be investigated and if impropriety is found, it should be punished. That demonstration of goodwill by Jonathan for timely conceding defeat has been obliterated by his reckless and ill-advised actions. The whole world now knows the man behind the destruction of our country.
While the world has come to know President Jonathan for his ineptness, the soon to be former president and his PDP operatives have no intention of stopping the hemorrhage in our society. Jonathan and his ineffective party have soiled the yarning aspirations of Nigerians for a free society, one which offers its citizens the opportunity. What we thought Jonathan should be doing now is reconciling the books and calling for the immediate return of looted funds and / or assets and be planning to take up academics his so acclaimed meritorious institution if, in fact he has a doctorate degree. Perhaps it is time for Jonathan to produce evidence of his academic claims or face perjury charges.
APC Diaspora strictly advices outgoing President Jonathan, and doing so with no equivocation, to quietly go way because he has been unmasked. Nigerian Elected a new president to pick up mantle of leadership and invariably exhibit his incomparable traits to quench the satiety of Nigerians yarning for a competent government. Henceforth and regardless, all further appointments are unacceptable and unwarranted, appointees are to chosen by the incoming president and his party and not imposed on General Muhammadu Buhari; light and darkness don't work and will only serve to create a dangerous magnetic field.
We also understand the "Transition Planning Committee" are making things unbearable for All Progressives Congress committee members: this is not surprising and can also be traced to lack of team work and organizational structure typical of a failed administration. Sudden appointments cannot stop the incoming Administration for acting promptly and wisely to replace all the "bag eggs" with technocrats as envisioned by General himself. We ask you to seat down and relax and watch how Nigeria is ran!
Again, for the sake of the appointees and in the interest of national unity, we call for their immediate resignation. This Jonathan Administration should understand that any appointment made after the publication of the result of the election cannot stand. It will be imprudent for anyone to accept appointment from the Jonathan Administration. General Buhari and his Administration should be given a chance to put his team together and start his reign with a clean slate.
Time is out for garbage in, garbage out! We appreciate the efforts of all media houses in this wholly change. It's the turn of Diaspora to bring brooms to clean up Aso Rock – Presidential Villa for General Muhammadu Buhari and Prof Yemi Osinbajo.
Signed
Francis John, +1.816.359.8527
International Coordinator
APC Diaspora International Secretariat
Email: [email protected]