Gov. Obiano In Houston, Woos Investors For Anambra's Oil And Gas Development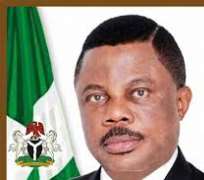 In a move aimed at boosting investment in the Oil and Gas sector, one of the Four Pillars of Economic Development of the Governor Willie Obiano administration, efforts are being made to woo prospective investors participating in the ongoing Offshore Technology Conference (OTC) in Houston, United States of America.
Governor Obiano will also use the opportunity of the visit to hold definitive discussions with prospective investors and technical partners of the proposed International Cargo Airport at Umueri.
The Offshore Technology Conference (OTC) which commenced since May 4, 2015 is sponsored by 13 industry organizations and societies and work cooperatively to develop the technical programs is where energy professionals meet to exchange ideas and opinions to advance scientific and technical knowledge for offshore resources and environmental matters. Founded in 1969, OTC's flagship conference is held annually at NRG Park (formerly Reliant Park) in Houston. OTC has expanded technically and globally with the Arctic Technology Conference, OTC Brasil, and OTC Asia.
Speaking on the benefit of the Conference, governor Obiano said: "OTC presents us with a viable platform to engage with industry experts and hold further talks with the aim of converting prospective investors to active partners in the development of our immense Oil & Gas deposits in Anambra. The fact that Oil & Gas ranks second amongst our 4-Pillars of Development gives you an idea about the importance we attach to the realization of our set goals in the sector. Also, having been an active player in the sector, I am leveraging some of the contacts to ensure we get the best to come and join us in developing our Oil & Gas deposits in a viable and eco-friendly way."
"Anambra State is blessed with over one billion barrels and 30 trillion cubic feet of oil and gas, most of which are relatively unexploited. Our objective is to have a fully developed and self-sufficient Oil & Gas sector in Anambra State by 2018. We intend to achieve this through three broad areas of intervention – policy formulation & infrastructure development, private sector participation and community re-orientation. "Governor Obiano emphasized.
Programmes so far undertaken by the Obiano administration in support of the state's Oil and Gas ambition include investment in infrastructure to wit: construction of access roads and bridges to the oil-fields in Aguleri and revalidation of license to build an international cargo airport in Umueri, among others.
He stressed that the economic importance of the proposed airport is hinged on plans to pipe ATK (aviation fuel) from the Orient Petroleum Refinery in Aguleri to the Airport where a storage facility will be built for it in order to serve as a major hub for the re-fueling of international flights in West Africa.
Governor Obiano threw more light on previous partnership the State has entered with UD Integrated Petroleum Production Development Company, UDIPPCO, and Falcon Corporation Limited towards investing in the development of the gas-to-power initiative in the State.
Said he: "UDIPPCO will develop a central gas processing facility which will produce lean gas that will serve as feedstock for various gas utilization projects including an 80MW power plant; and subsequently, a urea/fertilizer plant, and a methanol plant. Similarly, Falcon Corporation plans to pipe Compressed Natural Gas and Liquefied Natural Gas across three strategic locations in the State to facilitate the transportation of natural gas across the state.
Recall that on inception of office, governor Obiano introduced the Four Pillars of Development which drives the Economic Agenda of the Obiano administration include – Agriculture, Industrialization, Trade & Commerce and Oil and Gas (AITO). The Four Pillars are firmly supported by the Twelve Enablers which support efforts to develop the Pillars. The Enablers are made up of fundamentals like Security, Education, Healthcare, Power Generation, the Environment, Finance, Social & Civil Infrastructure, Housing and Urban Development, Hospitality & Tourism, Transportation, Water & Sanitation and Youth and Sports.