2015 IMO GUBER : REMEMBERING LAKE MALINDA ACCORD AND THE JUDGEMENT OF HISTORY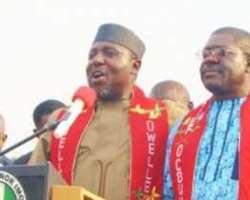 In our world, histories are not made in vacuum but there are places of history. History presents places and actors who agree in terms whether for peace or for war. In bilateral and multilateral accords, treaties or agreement, they become sacrosanct because they are defined and witnessed and agreed by a people, land, environment or a place.
One of the foremost worlds treaties is the treaty of Versailles. This treaty was reached at the end of 1st world war with a view to causing Germany pay reparation to the injured Nations especially France and also limit its meddlesomeness with some neighbouring Nations. Of course, that brought about temporary peace at least for about twenty years before Adolph Hitler's era of war concert. At issue was that such agreement to tame Germany took place, actors who represented the European nations involved and then signatories, which sealed the agreement and made it a sacrosanct bond.
We remember in history the symbol of Berlin Wall, which was built in 1961. it was a symbol of communism. The then American President whose reign was associated with controversy after attending a G-7 summit in Venice in Italy, made a brief stop in Berlin where he made one of the ever memorable speech of all times. Berlin is a place of history which symbolized the two main ideological divide of Democracy and Communism.
Revelations were made that the State Actor in the person of President Ronald Reagan before visiting Berlin, the famous clause of "tear down this wall" was an object of controversy among his speech writers. But it took Mr. President in his nature occasioned by his background and idiosyncrasy to consider the clause appropriate. Fearing the would be repercussion of the speech, one of his speech writers of Mr. President, Peter Robinson traveled to West Germany to inspect potential speech venues, and gained an overall sense that the majority of West Berliners opposed the wall.
In history, places are as important as the motif. It was at Berlin that former President of the United States, Ronald Reagan predicted the fall of communism.
In Journalism, time is of essence in news management but no news is complete without a place and actors. So it is in every event. I might be deviating from normal intellectual exercise to the spiritual implications of places of history.
In the Holy scripture, before Canaan was conquered and possessed by the Jews, it took the men of courage like Joshua to lead the people to the promised land. But before conquering Canaan, there were other men of courage with Joshua who were sent as spies to see what the land was like; if the inhabitants are strong or weak and whether they are few or many. It was in Negev that such instructions were directed at.
The Biblical Joshua might be more of figurative allusion to the present day Imo but it remains valid when juxtaposed with the realities of the present.
It was at Assumpta Cathedral of the Catholic Church that Ikedi Ohakim's regime was torn down. Assumpta remains a place of history because that was where speeches and responses from the crowd said the obvious. Owerri City school remains a place of history and to make it so symbolic, Owelle Anayo Rochas Okorocha built an edifice, which is today known as Owerri City School. It was on that soil that the people of Imo State resisted the rule of terror under Ikedim Ohakim where every opponent was denied a place to sell what he had for the people.
In 2011 and precisely on the eve of the Guber elections, Okigwe Road Round About popularly known as Government House Round About is a place of history in Imo State. It was on that ground that the grand finale of Okorocha's campaign was held after every effort to secure venue failed under a regime of a civilian ultimate leader. It was at Okigwe Round about that the Deputy Governor, Prince Eze Madumere's journey to Prison began. And it was in that Owerri Prison that he predicted victory if you allow me prophesied that he would be in Douglas House.
In 2015 season of politicking, places of histories abound on daily bases. Ordinarily, those with discerning spirit would have known where the pendulum swings because the soil and the people have spoken. This is no issue of gang up but agreement by the people themselves.
Dan Anyiam Stadium is a place of history because it was on that soil that every tricks and fraud were employed to manipulate the Peopels Democratic Party primaries and that soil has continued to speak against Emeka Ihedioha and his PDP co travelers. Ekeukwu-Owere Market located at Douglas Road, Owerri is another place of history where Ihedioha was swept away and pelted with satchet water for speaking against Governor Okorocha. Let us not forget that Ekekwu-Market is a model of Imo State because every local governments and communities in Imo State including residents are represented there.
Akwakuma in defiance also moved against Emeka Ihedioha and his political sycophants who have refused to tell him the simple truth. At Umuaka, the home of his running mate, Dr. Chuma Nnaji, it was obvious that the man with green cap lost it all when during his campaign with all the multitude who had attended but on sighting Governor Okorocha, the multitude deserted him and he spoke to an empty field in frustration. That event showed that multitude are only those who wanted their own peace of cake from his store house where he stockpiled what would have been used for the betterment of Ndi Imo for twelve years in the National Assembly.
The resistance against the PDP and her candidate coupled with the nature of Ihedioha as a hard sell to the people reached a stage where he waved at the people and they reciprocated with "waka". At the party level, Ararume was in court with further unsettle the embattled Emeka Ihedioha over alleged electoral fraud. Ohakim as it were also joined the fray despite his public declaration he was with Ihedioha.
This brings to mind, what has Ihedioha done to the people of Imo State to warrant this total rejection? The point is in his nature of malfeasance as Shakespeare will put it, has grown up to the extent that we cannot sum up sum. At the National Assembly where most histories are made, he chose to make same in the negative. How could a right thinking person domiciled 47 Board appointment in his homestead, Aboh Mbaise and people involved are allegedly either cousins, in-laws or political siblings. In all these Board appointments, only six local government can boast of this. And we have people preposterously claim that Mbaise is one, how come the sister local governments were treated with disdain?
Again, for every budgetary allocation for Imo East, Emeka Ihedioha ensured his Mbaise clan had over 70% share. In 2011 budgets of 1.4billion, he ensured that Mbiase alone took about N1 billion as other mega six local governments in Imo East were allocated paltry N400 million. However, it is on record that through fraudulent means, the implementations of projects and programmes attached to these monies were assessed leaving out relevant State agencies and Ministries. All these have happened for close to twelve years against Ndi Imo. Approximate amount allocated to Imo East alone stand at about N 18 billion. Where are the projects? Where are the programmes? Even the water scheme at Naze has been paid ninety percent, what has happened to it?
That supposed hallowed chamber, which gave room for history of greatness was desecrated by Emeka Ihedioha. The people of Ngor Okpala are at daggers drawn with the man who betrayed them. It is not about money but good spirit, regard to the people and not treating them as indolent with reckless arrogance. Meanwhile, Chief Emeka Ihedioha was not only in Court with Chief Ifeanyi Ararume. He has been in court with Barr. Austin Aguguo of Ngor Okpala Local Government Area of Imo State who happened to be the authentic PDP House of Representatives standard bearer for Aboh Mbaise-Ngor Okpala Federal Constituency. Barr. Aguguo has defeated Emeka Ihedioha up to Court of Appeal and they are now at the Supreme Court. So, he is not new even in electoral fraud. He is allegedly the master of impunity in the history of electoral fraud in Imo State.
It is also important to make mention of places in history where electoral fraud made indelible impact in the history of electioneering process in Nigeria. While many would believe that Rivers State and Abia State remain a theatre with lifetime award winning actors, Imo, too, was counted in the said impunity. We cannot forget in a hurry few flash points where Ndi Imo were made to eat a humble pie from the master of conspiracy and High Chief of electoral fraud. In a piece titled: "Ihedioha: End Game of A Slippery Political Sojourn written by Ikenna Onyekwelu, Ihedioha, who, according to him is described as "Epitome of Electoral Manipulation", did not disappoint the writer and the people of Ngor Okpala. He broke the records in Aboh Mbaise. He was said to have allocated over fifty thousand votes to himself.
In Ezinihitte Mbaise, in the first outing, the Mbutu born and his well tutored students of electoral manipulation in connivance with INEC officials produced twenty-nine thousand votes for PDP. On getting to INEC office, Owerri and on realizing that Governor Okorocha was still coasting home with a wide margin. With the help of the corrupt INEC officials, the result was further padded to over forty-eight thousand votes. Ngor Okpala was not left out as the people's will were thwarted by the agents of the green Cap politician.
Another established place of history is Oru East Local government where over fifty thousand votes were allegedly written and was waltzed into INEC office for a serving Senator of the Federal Republic of Nigeria. However, on a return match during the supplementary election, surprisingly and glaringly, the Senator in question was beaten blue-black by the people of Oru East while his lieutenants with their INEC collaborators were caught pant down thumb-printing. It was a celebrated case as the family members of the said Senators were allegedly arrested by Dr. Mike Igini with the help of the security agents. The result of that election did not leave anyone in doubt the criminality that has pervaded the local government for many years.
My dear readers, the above realities was rather considered needful to elucidate the essence of actors, places, time and history. It was not to get at anybody but to state the obvious with a view to driving home this point that people should not be making a mistake of abusing opportunity of history as such shall come back in future to judge them.
To the optimist, with the false dark cloud showing a sign of a problem following unprecedented propaganda, master -riggers, false soldiers and police with the real officers alleged to have been commandeered from the Presidency all assembled against the present Governor of Imo State even from the quarters that seemed ecclesiastically directed, it was the beginning of the end if not the end of the beginning for Governor Okoocha's political odd odyssey but the people at the end of the day carried the day.
Lake Malinda, a sprawling land acquired with patience and faith. It is a place of hard work with restraints from reproachable actions. Its development is not without its challenges as it is being developed at a pace devoid of agitations as kinsmen, friends and well wishers feel at peace to associate with it. It is the country home of Prince Ezeakonobi Madumere, the Deputy Governor of Imo State. Lake Malinda derives its name from the mother of Prince Madumere in honour. The Lake in it is only a borrow pit or sand box, wchi was converted to lake through the creation and creativity of the Prince.
It has chapel in it reverence and deference to God. And as a man who cherishes the company of people, he took his time to build for the people. The few lowly in Mbaitoli have already got the homes in it as friends and well wishers will be accommodated in it. This land has a history. It is a place deserted by the people of Achi and the journey to recover the land began since late 1990s. Madumere it was who took the bull by the horn. It is a place of vision and today, it is fast becoming a place of gold because value was invested in it.
It was at Lake Malinda that Prayer of Accord was made by the men of God from Christian Association of Nigeria. it was a place where agreement for wise counsel shall abound from the throne of grace. There it was that the soil was called in to stand as a witness. Yea Earth is of the Lord and the fullness thereof. Imo State was remembered against violence. It all began at the Deputy Governor's office with Evangelist Oluebube and ended with Archbishop (Prof) Edwin Ozuzu. In one accord, they prayed for righteousness of God Almighty and for the protection of the leaders and people of Imo State. In agreement, they prayed that God restores His people come 2015 with Owelle Rochas Okorocha and his deputy, Prince Madumere coasting home with victory. It was not without a proviso that they must even raise higher the bar of governance.
Lake Malinda presented a platform for Governor Okorocha to speak to the youths and Rescue Mission Cyclist Union, Mbaitoli where he reeled out his stewardship to the people and the reason d'tar for his second term bid. Lake Malinda has hosted the great men, the who is who and most importantly the people for various reasons yet it is yet to meet its completion but fast becoming a place of history.
Machiavelli in one of his books, "The Prince" , reading in parts, "Ecclesiastical principalities do not need to be defended, and their subjects require no administration. Nonetheless, these states are always secure and happy. Since these principalities are "sustained by higher powers which the human mind cannot comprehend," delving further into why this is the case would be presumptuous.
My dear readers, we have had cause to agree or disagree on opinions of the Clerics and their world. We have had our State cleverly leave principality ecclesiastical to exist as they appeal to our individual consciences and conviction but the truth is there is that higher power that reigns. What do you think would happen when different Doctrines of the same belief come together in one accord to decree a thing? It was on the soil of Lake Malinda presented that spiritual history and God alone used Governor Okorocha with his Deputy, Prince Eze Madumere and others who saw the change coming, to construct and delivered on the historic Change of baton of leadership.
INEC Office, Owerri may have also broken a world record to have harboured most corrupt officials ever known in the history of Nigeria. It was recorded that sixteen of her officials including the Head of Operations were arrested for an alleged gross misconduct if not criminality. Of course, it was also last week that the same INEC office Headed by the Resident Electoral Commissioner, Gabriel Adah, that returned Governor Okorocha, his deputy, Prince Eze Madumere and House members-Elect. It is in history, too, that first supplementary election was ever conducted in 2011 and it has managed another supplementary election in 2015.
In all these events, I realized that those agreements reached in the public were all for a peaceful coexistence if not for progress while those reached 'nicodemusly' reached by a few self serving persons always end up in fiasco as they will go out of their way, even if means killing, maiming, to achieving such goals. Those accords reached in the public and agreed by all always lay down and follow such observable rules. Where there are derelictions, the derelicts ought to be punished by the prescriptions of the law.
Hence, while we hail the actors, remember places, cherish the periods and times of history, we should as a matter of responsibility call to question the masterminds of bad history especially when they carefully set such precedences of regrets to serve as a deterrent against the future deviants.
UCHE OGBONNAYA is an Owerri based Political Scientist and a renowned political analyst