My Report On Tuesday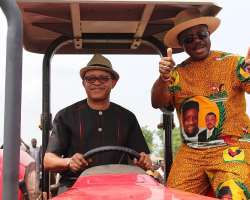 His Excellency Sir,
Chief Akpokue Dike, Aguleri.
The Governor of my Dear State Anambra state.
I bring you multiple greetings and best wishes. I want to bring to your attention the crass call from your Executive assistant who masquerade as many pseudo,s on Facebook,a call to make me an official opposition to your Government.
He named me "AN ENEMY OF THE STATE" and when such person on high position make such pronouncement, it means he has the Go ahead of the Governor ,after all he is Executive assistant to the Governor. I remembered when one of the e RATS that worked with you said the Government resolved to murder me and I cried black and blue and he later said, he was joking, but this time because it is Ifeanyi that said this, I take it more serious. If he should name me enemy of the State ,it means that the state may have put in preliminary stage into how to REMOVE THE ENEMIES OF THE STATE and because it is so ,I wants to bring my case to you.
Sir, maybe because I always bring you the evil they are committing in your Government, all to give you a bad name ,maybe because my Tuesday report card speaks like mgbajara and maybe they think I will smoke them out from the evils they perpetuate ,so I bring my case to you and they are angry and pissed .They want me to stop or they stop me ,but nobody told them that you cannot use broom to swoop ATLANTIC OCEAN .
Sir ,my case to you is for you to judge me and tell me if I am your enemy ,because I wanted to tell you about or say how embezzlement is thriving in your ministries ,especially a Giant fraud that were committed at CULTURE AND TOURISM ,but if I am enemy of the state ,it means I will remove all my GLOVES and hit without reserves.
As we wait to your verdict ,may I honestly bring to you the following
KICK OFF –sir ,there are this grievous error which is about to happen ,it is the mistake of rewarding Madam Speaker of the House with another Golden cake .She got rewarded with automatic ticket for house of Rep ,well she failed .She got rewarded by giving her son who is still in Law school a position of SA and now she is still the speaker and also a commissioner for environment .
Sir ,she is not the only person that needs favor and it will look as if she have you on her palm to twist and turn .
My old man will say "Enyim akam agwa gi bu ajo enyi" [My friend I would,ve advised you is bad friendship] ,Sir ,there is this News that is making waves on social media about the qualification of MARK OKOYE ,the SA on INVESTMENT ,the son of Former Minister ,educated in Washington USA. The Dude is qualified to hold the post of commissioner but we heard that, suddenly the house of assembly remembered that he is yet to clock 30 and therefore his confirmation for that office should be frozen until the cloud rolled down to meet the earth. This guy is ready ,qualified and can bring to the state a great success than some of this expired brains that think everything rotates around how much they will embezzle from you . Note ,there is a case I am investigating ,a Big fraud in a ministry of Culture and when I am done ,I will submit it as usual ,that will enable you to understand the kind of fraud they are perpetuating under the cloak of leadership.
THROW IN –
Sir ,currently you are the most criticized Governor in Nigeria atleast on Social media ,it does not mean you are doing so bad ,there are Governors that can be said to be insolvent ,but I can be frank with you on this .
The reason is because your Media team decided to seek relevance by attacking the JEWEL OF THE NILE ,THE ICON OF THE EAST ,THE PACE SETTER,THE GOLDEN TULIP ,THE MAN THAT CREATED MIDAS TOUCH ,THE SILENT ARCHIVER and THE STINGY but GREAT DEVELOPER ,I am talking about OKWUTE NDI IGBO JI EJE MBA . The truth is that the man touched lives ,he showed the state love to the extend that other Igbo state are begging that Peter Obi should come and bless them with simply words of good Governance . The Nation adored him to the extent of giving him any available exalted position just to entice him . So ndi e rats and those frustrated goons that parades as e rats of the Government ,when they start using his name to learn the business of insult ,some good men like some of us in SOUTH EAST ADVOCATES will rise like Dust of Sahara dessert and do justice to the idiotic rants of the confused.
This boys are doing that thinking they are defending and projecting you but the gospel truth ana kuro mmiri is that they are digging a political grave for you.
Sir,this clowns that run around as e RATS will not contain me even now that I am friendly ,imagine when I turn to opposition and come out with my LETHAL ODERA THERAPY ?,So if they cannot win a friendly wrestling contest ,how can they meet APC/PDP on the POLITICAL BATTLE field in 2017 ?.
The simple truth is that your team will be roasted like Ji aruru na oku [Roasted yam] and devour them with Red oil,that is why my old man will say that it is not right to send one legged man to a pushing contest .
Let me remind you that the veterans that waged the political war against those brutes I mentioned above in 2013 ,all of them are now regarded as enemies of your Government, such thing will make my Father to cry "Eze gburu Dibia na agworo ya ogwu ,ndi na ako ya nsi agwugo ?" [The king that killed his witch Doctor ,does he think that his enemies that attack him with Voodoo are into extinct ?]
Only you can call them [E RATS] to other ,Sir ,there are politics you do not need people to teach you ,we know you are not skilled in politics ,you may be good in board room politics but the actual world politics is different ball game .I have begged you so many times to reconcile with Okwute but it seems to be talking to the wind , the truth is –AS LONG AS YOU ARE IN ENEMITY WITH OKWUTE ,it is like a man punching BAG of STONE ,it is his wrist and knuckles that will be suffering or as my Mother will say "ochu na okuko nwe ada,nwa okuko nwe mwe mwe oso" [He that chases a chick will always stumble and fall as the chick keep trotting a good escape].
Go on air and tell them to leave OKWUTE ALONE ,go on air and give respect that is due to Okwute ,I will tell you isi ani adiro ato ebe akporo ya [there is no way somebody will be glued to a postulated position].
Sir,tell them that OBI set a standard for the state and there is the parameter to measure any other Governor ,so what is advisable is to surpass his good work and set a higher standard ,but wasting good money to advertise Works done by Okwute or make it sound like WILLIE IS WORKING is having adverse effect and 2017 all this will come into play ,APC will sing ANTHEM with it ,then I will Dance SKELEWU with your boys then for every lie they spew ,I will shove down their throat a bundle of truth to that effect .
Sir, one problem with people like me is that our allegiance is solid ,it is hard to give, but when we do ,it is guaranteed with unalloyed support, so if your e RATS si ka anyi kuwasiba ,it will be a pleasure .Why I am saying all this is because I do not want to start playing opposition ,not that I will not like to, but because me and other good fellows fought tooth and nail to contain APC and their propaganda during your election and now they will be happy to see us throwing punches across the rug , if we can circumvent it ,it will make your tenure to be more prosperous ,But I am moving on
FREE KICK –Sir, send somebody to visit AWKA SECRETARIAT ,ask the person to visit the toilets and see how over grown men and women live like pigs .The mountain of excreta deposited in that Gigantic edifice is a great abomination to any half educated person , talkless of all the Academic Doctors working in that environment .
i am sure they are not expecting the Governor to come and flush the toilet for them or do they expect you to fetch water for them ? there are many ministries out there, they should pull resources and DIG A BOREHOLE or buy water from Vendors ,so that the place will be clean atleast.
Meanwhile last Thursday and Friday ,there was no work done in the entire secretariat because of power failure ,the epileptic power supply from Power Holdings are more damaging than providing services ,it keep fluctuating and damaging appliances,this Area your office should get involved .
They need GENERATORS that will be powering the edifice 24/7 ,if that is not done ,it means they will not be giving the state their best and they get paid for doing nothing.
HALF TIME –
Sir , If I am to say ,you,ve snatched APGA away from RED LONG CAP and do not allow him to cage you once again .Do not allow him to take back any percentage .If he said he will not call Congress ,which is not his duty but that of the Secretary ,make the secretary or the assistant secretary to call the Convention. You can even have Vice Chairman to summon the meeting ,all he need is the consent of 40% of NWC and I am sure he will get 95% consent of the NWC ,then call the meeting and kick LRC into touch .
Sir ,I will tell you that LRC will not go quietly and he is a fighter but ejim ogwu ya ,to contain him ,you simply need to show him that two can play . Get this convention into play .
As the LEADER AND BOT CHAIRMAN you reserve the right to query the financial status of the party .As the leader the onus is on you to call all the factions and meet them head on and see a way to reconcile them.
As the BOT CHAIRMAN you reserve the right to call for NWC MEETING AND ALSO CONVENTION if the EXCO are not forth coming .
As the Leader of APGA ,you can bring external auditors that will audit the tenure of Umeh and bring back the report ,so that if he wants to dangle whatever blackmail material he must have prepared against you ,then you shove the AUDIT REPORT DOWN HIS THROAT .
Sir ,any reconciliatory move he Is making now ,please do not be deceived because what he has in mind will not be romantic at all ,I will advise you to beware of a reconciled Umeh for he will be coming to finish what he did not finish during the sweet days.
FINALLY –
Since the Accountant General of the state told the CONTRACTORS point blank ,when they met her to demand for the payment against the signed CERTIFICATES after the election "THERE IS NO MONEY" ,I believe that agwo no na akirika ,I will advise for you to stop flagging off new projects since there is no fund to execute the old ones and the one you flagged of for election purposes.
Chase away all those idiots that bring you people you will sign MOU with ,since all the MOUS signed has not been started nor planned to start this year.
Try and raise money and pay the Contractor that is handling AMAOBIA OVERHEAD BRIDGE,KWATA JUNCTION OVER HEAD BRIDGE and AROMA JUNCTION OVER HEAD BRIDGE ,because from what I see the man is pulling out of sight in style and it will be so bad if he move out complete.
Thanks for your usual attention as we work hand in love to make our state better.
Mazi Odera
Truth is our standard,accept it in good faith or
we shove it down your throat.The Choice is yours.
Disclaimer:

"The views/contents expressed in this article are the sole responsibility of the author(s) and do not necessarily reflect those of The Nigerian Voice. The Nigerian Voice will not be responsible or liable for any inaccurate or incorrect statements contained in this article."
Articles by Mazi Oderaigbo