Court adjourns Fani-Kayode's case on money laundering till June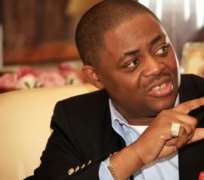 A Federal High Court sitting in Lagos, yesterday, adjourned till June 18 for judgment in the trial of a former Minister of Aviation, Femi Fani-Kayode, charged with money laundering.
Justice Rita Ofili-Ajumogobia fixed the judgment following the adoption of final written addresses and arguments by the counsel to the Economic and Financial Crimes Commission, EFCC and the accused.
Fani-Kayode, whose trial began in 2008 before Justice Ramat Mohammed, was accused by the EFCC of laundering about N100 million while he was the Minister of Culture and Tourism and later, the Minister of Aviation.
The laundered sum was, however, reduced to N2.1 million on November 17, 2014 after Ofili-Ajumogobia had dismissed 38 of the 40 counts leveled against Fani-Kayode by the EFCC for want of proof.
At the resumed trial of the case, yesterday, the EFCC prosecutor urged the court to uphold the remaining two counts and to, accordingly, convict Fani-Kayode.
It said that the former minister had failed to exonerate himself of the allegations.
Prosecution pointed out that the object of the charge was that Fani-Kayode transacted in cash sums above N500,000 which was the threshold stipulated by the Money Laundering Act.
It said that Fani-Kayode had personally admitted making such transactions in his confessional statement of Dec. 22, 2008 to the EFCC.
Prosecution said: 'In this statement, he admitted that he transacted in cash above N500,000. My Lord, this statement went in without objection by the accused and the statement was voluntary.
'With the combination of this confessional statement and the statement of the investigating police officer that investigated the allegations, we rely on all of these to submit that we have discharged our burden that monies were received by the accused in cash and were not done through any financial institution.'
Prosecution argued that it had discharged its duty once it established that Fani-Kayode transacted large sums above the Money Laundering threshold, adding that it was left for Fani-Kayode to explain the source of the money.
But Fani-Kayode's counsel, in his argument, maintained that the accused made no confession to the EFCC, adding that the anti-graft agency had failed to show that he actually accepted cash amounting to N1million as alleged in one of the counts.
He said the EFCC also failed to show to the court the person who handed over the money to the accused persons, adding that the case of the prosecution to succeed it must be proved beyond reasonable doubts.