Buhari's ban on AIT - Daily Independent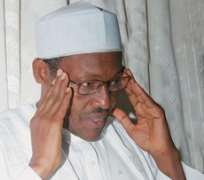 The president-elect declared that he would be the President of all  for those who voted for him, those who worked and voted against him and those did not vote at all. We expect his words to be his bond
Media reports that security officials attached to Gen. Muhammadu Buhari barred African Independent Television (AIT) crew from covering the functions of the President-elect is unfortunate and leaves a question mark on the future of the media under the Buhari administration.
The directive, which took effect Monday, April 27, was reportedly enforced when members of the AIT crew, who were at the Defense House to cover a meeting between Buhari and a visiting Cuban delegation, was allegedly asked to leave.
The fear now is whether this is not a reinvention of  the infamous Decree number 4 of 1984, which Buhari promulgated as a military head of State which repressed the media and limited its reporting activities.
Interestingly, Nigeria is no longer under the military dictatorship and this is why the President-elect must jettison all military tendencies and embrace democratic tenets as a true converted democrat.
Besides, he needs to understand that the country's constitution allows freedom of the press as contained in section 22 of the 1999 constitution.
Therefore, if Buhari's move to bar AIT from covering his activities is anything to go by, then it would be in gross violation of this section of the constitution.
This newspaper would have expected that the President-elect approaches a court of competent jurisdiction in line with democratic procedure if he feels offended by AIT's actions and let the law take its course rather than taking a rash decision capable of rubbing off on his personality as a democratic President-elect.
We cannot agree less with the position of the All Progressives Congress (APC) that all accredited media organisations, including AIT, are free to cover the President-elect's activities. Certainly, Buhari administration needs the cooperation of the press to further deepen democracy irrespective of the role of the media during the electioneering campaigns would not discriminate against any media organisation irrespective of its role during electioneering
Recall that shortly after being declared winner of the presidential poll by the Independent National Electoral Commission (INEC), the president-elect declared that he would be the President of all  for those who voted for him, those who worked and voted against him and those who did not vote at all. We expect his words to be his bond.
But we also need to state that the role of the media during the electioneering campaign was questionable and not a few Nigerians believe that it contributed to the hate campaign. Definitely, the profession is guided by A code of ethics and it is expected that media practitioners must adhere to the highest level of professionalism.
Indeed, the future of Nigeria's democracy lies in the objective analysis of situations by the media and that is why it must not be partisan in its reports.