Ekiti: Fayose withdraws suit against impeachment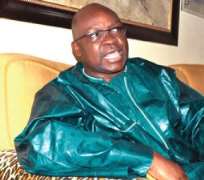 Governor of Ekiti State, Ayodele Fayose, on Wednesday withdrew the suit before Justice Ahmed Mohammed of the Federal High Court, Abuja, seeking to stop the All Progressive Congress (APC) members in the Ekiti State House of Assembly from impeaching him and his deputy, Kolapo Olusola.
The plaintiffs in the matter, Speaker of the House of Assembly, Olugbemi Joseph Dele, Ekiti State House of Assembly, Fayose and Olusola, through their counsel, Ahmed Raji (SAN), approached the court for an order to halt the impeachment of the governor.
However, when the case came up before the court, counsel to the plaintiffs declared that his clients wished to withdraw the case.
The case was consequently struck out.
A fresh suit has been filed before Justice Evoh Chukwu of the same court.
The suit before was filed by  seven Peoples Democratic Party  (PDP) lawmakers in the House, listing the  Inspector-General of Police, Speaker of the Ekiti House of Assembly, Adewale Omirin, and 21 APC lawmakers as defendants.
Ruling on an ex-parte application brought by the plaintiffs last Thursday, the court ordered the APC members in the House of Assembly to maintain the status quo in their bid to impeach Fayose.