A Sin Too Many, A Tuesday Report Card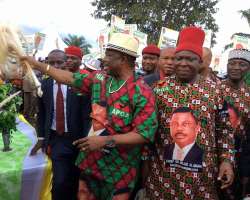 HIS EXCELLENCY, DUKE, SIR GOVERNOR WILLIE OBIANO. My Honest greetings once again and with humility I submit my Report card .
Sir, you remember my old man and his wise saying ,he has another one which states "onye nwanne ya na agba ajo egwu ,oko iku ana ako ya"[if your brother is behaving badly in a public place ,you will be shame faced],I am highly disappointed with the cream of advisers you have, especially Political advisers, either they are to scared to give you good advise or they are too dumb to hold such positions .I will tell us the reason I am sounding so.
Sir,how can those political advisers and other advisers allow you to FLY from ENUGWU to ABUJA to see President Elect Gen Buhari ?,Not minding if you fly Chartered or commercial plane ,what matters is the trip.
A man your state campaigned against and voted against with venom ? Even if you invested in his campaign, but the result of your state election is obvious that he stumbled and eat sand politically in our Dear state Anambra ,then without this your advisers telling you that it is very bad and dirty call for you to visit him so soon, they allowed you to Jump into an AIRPLANE and visit him, it did not stop there, the worst is that you went there, he opened his door to see you with a mind to hear what this "inyamiri" has to say and you my Governor started begging him to consider giving your people Job ?. Just take moment and reverse the case ,how will you view any PDP LEADER who came in today and ask you to same favor for NDI PDP in ANAMBRA ,having in mind the Tsunami that occurred politically in our state .
My Governor ,pardon my attitude and submission style ,I discovered that okwu ana aso anya odiro ebi gbo [an issue treated with euphemism does not rest on time]. I am trying my best to present my Report without Jaundiced mind, decorum and also to make sure it gets us the desired result.
So if I did not use enough kow tow doing it ,forgive the short coming and accept my appeal,it is just a simple mistake of the head and not of the heart . I proceed with Love and kindness …
The same man you sponsored Ubanese to sue in Awka ,challenging his eligibility to contest the election ? what changed if I may ask ? .Is this not the same man you said before the election that any igbo person who voted for him is a BASTARD ,now can we not assume that anybody that went to him with cap in hand should be assumed to be what you said about voting for him ?
Sir, Remember that you and your POLITICAL MAKER esighi otu uzo aga , you and APGA FACTIONS have never had any sit down discussion ,infact no discussion at all . I do not know if you have congratulated the winners of FEDERAL HOUSES AND SENATORS in our state ,but you want another man who may not have same understanding with us as a RACE to kindly sweep things under the Rug ? ,but I digress again ,so moving on,,,
Were you begging for Ndi igbo or Ndi Aguleri or Ndi APGA ? ,I know for sure na ndi igbo na ebu onu na aju nri, Ndi igbo do not go to their rivals to cry and beg ,we go them with our head held high and we look into their eyes and tell them to meet us at the battle field.
Sir ,there is something worthier than financial inducement ,that trip was ugly and uncalled for ,infact it reduced the status of our state to below par. The state that produced EMEKA OJUKWU SNR who lend the nation the ROLLS ROYCE that carried Queen Eliza during Independent .
The state that produced Nwafor Orizu,Dr Nnamdi Azikiwe ,Ikemba Ndi igbo, Dora Akunyili ,Chinua Achebe,Chiamada Adichie,Peter Obi,Dr Alex Ekwueme ,,no no no we can not condesend to that low of all lows .
HE ,you want Buhari to extend his goodies to ANAMBRA STATE even though we voted against him ,the confusion in my mind is, DID YOU EXTEND YOUR HAND OF FELLOWSHIP to other parties in the state that voted against you ?
Did you even congratulate those that contest against your choice candidates ?,did you extend development to towns that voted against APGA ? ,I believe that you should live by example so that Buhari will learn.
If you noticed from the TV crips and Still Photos of that visit or the news proper ,there was no response from Buhari to you ,he did not say yes or no or that he will think about it ,in his mind ,he may have said –WHO IS THIS ONE ALSO ?
The honest truth is that you weakened Ndi Igbo by that movement and those that advised you to go on such despicable tour were trying to paint you more black ,because they knew that such a mission would be best ,when selected Power Brokers from Alaigbo ,led by Elder statesman ,people of pedigree and not just for one Governor who voted against the same man.
I can say without fear of doubt that ,the people who advised you for that mission did so to neutralize the mission OKWUTE NDI IGBO went to in SOUTH AFRICA on XENOPHOBIC ,but as you can see, his was a celebrated humanitarian move and it scored good ,but the counter move which they advised you to embark upon ,,well public opinion by Ndigbo are 99% against it ,only the Moronic sycophants are saying it is good ,BUT let,s continue,,
Still on FMR GOV OBI ,that man is something else ,some may call him a man with 9 lives but so far i have counted more than 21 lives in him ,when you think he is down he will spring surprise as usual ,after the election of BUHARI , my friend Ijele Nze will say "nezienu ka esiri welu gbue onye amu ibi mma ,nezie ka osiri welu zee" [See the matchet attack on a man with elephantiasis of the scrotum and see how he dodged the cut],anyway i suppose you,ve called him to congratulate him as the Chairman of SEC,if you,ve not done that imalu na ojoro njo,,and i continue moving …
Sir,I will be frank with you even though others may not like it ,but I invested too much time and money in your election to allow you to fail. What you should,ve done and will do is to first of all ,congratulate your state Senators Elect ,no matter the platform they are under ,what matters is that they are the people that will be holding forte for the state pending tribunal ,same way you were holding brief for APGA and APC ,PDP wasted time as usual in Tribunals and court and Supreme courts.
While the judges and lawyers are feeding fat from this politicians ,giving them promises of miracle which we know is a mirage ,this PDP SENATORS will be holding the slot of Ndi Anambra in the Senate and it means ,they are your EYES at the federal and like it or not ,the better if you work with them with one accord ,party affiliation not withstanding at all.
Sir,you are the Governor of the state and not of APGA ,it is only when you attend BOT MEETINGS of APGA that you become the Party leader but in AGU OKA ,you are the Governor of everybody including PDP,APC,APGA,AD,PPP,UPP,UPN and you should let everybody see you as father of the state and not a hostile leader of a A PARTY.
Moving on to another political blunder ,Sir ,you invested lots of money in ABIA state election outside the Multi Million Naira giving to Ubanese and later Victor Umeh for same purpose which was for them to be on the ground in Abia.
Well they took your money and no body sighted them in Abia ,meaning they pocket the money ,but that is not the issue ,the issue is ,didn,t your Adviser read the MINUTE OF THE LAST MEETING ?
The People General led an NZOGBU NZOGBU team and went to IMO STATE and install GOV ROCHAS OKOROCHA and he defected with speed of light into APC . Abia state out going Governor Theo Orji came into APGA and same General Ojukwu went personally to welcome him into the party and in less than 3 months he bounced off the party. Moving on …..this ALEX OTTI you are wasting resources upon went to APC and pledge complete royalty and allegiance to them in Abuja ,sorry I forgot the allegiance started from this side but Alex case is different because he first went into PDP and they denied him ticket and he started looking for the alternative and to him APGA is an not alternative but a ladder to climb up to the alternative.
He wants to use APGA same way ROCHAS USED it which means ,win or lose ,he is done with APGA because his mind is with APC .
Abiam back to the state proper ,Sir ,kindly bring around some of your PROTOCOLS and use utali and teach them lesson . Does it mean they do not read the files in the office ? ,Sir ,most of the Jobs you are commissioning has been commissioned by the man that build them ,the man that has the idea and delivered same idea ,I mean Okwute Ndi Igbo. How then can this PROTOCOLS play blind and allow you to go and re-commission such projects ? .Take the case of AMAKU HOSPITAL ,which Obi build and commissioned and this your people went there ,remove the PLAGUE and install yours ,,,chei what can we say to posterity ? There are people alive at those places and they knew the history of who build what ?.
Take for instance inside NGOZIKA ESTATE there are Roads the Residents were patching by themselves ,to shocking surprise of everybody this your Men brought two SIGN POST and mount –WILLIE IS WORKING on it ?WORKING AT WHAT AND HOW ?.
Sir,if you do not stop them ,it will get to a time if somebody is building a house ,your men will put up a sign -WILLIE IS WORKING on the Roof of the house.
What this will mean is that ,they will conclude that your Government is fraudulent and to be candid ,I will tell you upfront that this may be used against you in re-election or any IMPEACHMENT PROCESS .
THROW IN; Sir,kindly tell the ministry in charge of BILL BOARDS to cut down on the bad propaganda ,they put WILLIE IS WORKING even on peoples Farmland ,Culvert built by community ,NEPA TRANSFORMERS bought and installed by community ,not to talk about projects started and completed by your predecessor ,Even the over sized TATA BUSES we bought from INDIA ,instead for them to get companies to advertise on the body as it is done in Lagos and Enugwu ,they do what they do best ,they put WILLIE IS WORKING ,it makes your government to look suspicious . The deal is ,it is the people that will see your work and say =TRULY WILLIE IS WORKING and not sign post that will broadcast it ,then people will ask WORKING AT WHAT and WHERE ?.
Finally ,Sir as the tenure of TOMB RAIDER has expired ,I believe that a new APGA CONVENTION will be done without further delay ,but I will like to advise as usual ,let the Chairmanship move to another state ,but please do not hold that convention without reconciling the FACTIONS ,it is very important and a political PLUS, do otherwise nobody will flog you but you are removing all the things that will help you to have a solid foundation.
Whispering –IF ANAMBRA MUST CONTEST FOR THE CHAIRMANSHIP OF APGA ,THEN I may consider THROWING IN MY CAP INTO THE RACE and with that I AM OFF BUT O
Mazi Odera
Truth is our standard,accept it in good faith or
we shove it down your throat.The Choice is yours.
I am off but on
t witter@ MAZIODERAIGBO

Disclaimer:

"The views expressed on this site are those of the contributors or columnists, and do not necessarily reflect TheNigerianVoice's position. TheNigerianVoice will not be responsible or liable for any inaccurate or incorrect statements in the contributions or columns here."
Articles by Mazi Oderaigbo