I will probe Sanusi's claim on missing $20bn -Buhari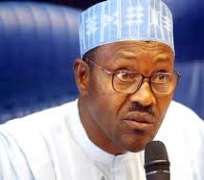 President-Elect Muhammadu Buhari on Sunday declared that his incoming administration would probe the claim by the former Governor of the Central Bank of Nigeria and now the Emir of Kano, Muhammadu Sanusi II, that the Nigerian National Petroleum Corporation failed to remit $20bn oil money to the federation account.
Buhari dropped the hint while receiving a delegation of the All Progressives Congress elected officials and supporters from Adamawa State at his campaign office in Abuja.
The President-elect, who spoke in Hausa expressed surprise that instead of probing the allegations by the former CBN governor, the Goodluck Jonathan-led Peoples Democratic Party administration chose to fire him.
He stated that since Sanusi's claim was documented, his administration would take a look at it after the May 29 handover date.
'On the issue of corruption, I heard that some people have started returning money. I will not believe it until I see for myself.
'You all remember what the Emir of Kano talked about when he was the governor of the CBN. He said $20bn not N20bn was unaccounted for; they said it was a lie. Instead of investigating it, they sacked him. And God in his infinite mercy made him the Emir of Kano. In any case, that is what he wanted. And since this was documented, our administration will take a look at it,' he stated.
It could be recalled that following Sanusi's allegation, a management and accounting consultancy firm, PriceWaterHouse, was last year hired by the Federal Government to carry out a forensic audit of the NNPC.
Sanusi had written a letter to Jonathan in September 2013 that $49bn was not remitted to the Federation Account by the NNPC.
But following the controversy generated by the letter, a committee was set up by the government to reconcile the accounts of the corporation.
Sanusi later recanted and said the unremitted fund was $12bn. He later   changed the figure to $20bn.
PwC, in its report stated that while the total gross revenues generated from crude oil liftings amounted to $69.34bn between January 2012 and July 2013 and not $67bn as earlier stated by the Senate Reconciliation Committee, what was remitted to the federation account was $50.81bn and not $47bn.
Within the $69.34bn, the audit report revealed that $28.22bn was the value of domestic crude oil allocated to NNPC, adding that the total amount spent on subsidy for Premium Motor Spirit amounted to $5.32bn.
The PwC report read in part, 'Signature bonus, Petroleum Profit Tax and Royalty yet to be paid by NPDC is $2.22bn. Total cash remitted into the federation accounts in relation to crude oil liftings was $50.81bn and not $47bn as earlier stated by the Senate Reconciliation Committee for the period January 2012 to July 2013.
'Based on the information available to PwC, and from the above analysis, the firm submitted that NNPC and NPDC should refund to the federation accounts a minimum of $1.48bn.'