ROCHAS WINS IMO STATE SUPPLEMENTARY ELECTION
EMEKA IHEDIOHA TO CONCEDE & CONGRATULATE ROCHAS SOON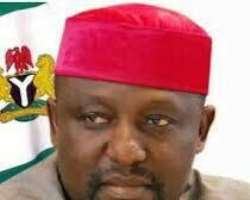 Results collated in the Imo State supplementary election held today, 25th April 2015
indicate a very wide margin win by the APC candidate, Rochas Okorocha. The candidate of the Peoples Democratic Party, Emeka Ihedioha is seen trailing far behind in all the results.
It was reported yesterday that Emeka Ihedioha had opted for a ministerial appointment in place of the re-run; knowing that he was going to have a backward outing. Meanwhile, his camp denies that their candidate did not contemplate stepping down for Owelle Rochas in place of a ministerial slot.
There are indications from associates of Emeka Ihedioha that he will soon concede and congratulate
the winner. Rochas who spoke to some of his aids on the yet to be officially announced victory, dedicate
the success to all Imolites.