A Broad Inclusive Canvass Of Comics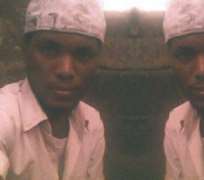 It's indeed Atlantic depth, when comparing the nation's recent national electoral reform over the exercise of historical Nigeria democracy and franchise right of its citizens. That whatsoever is incredible and beautiful worth mind blowing; a sincere ground worth belief where truth is sacrosanct..
Nigeria is a country with the largest population in Africa. Its helm of affairs is powerful but less propelled. And had with it's helms of affair; corruption, that had been the biggest demon behind its major setback in fastracking it's progress, and it's the citizens. Today sadly, no family in Nigeria without corruption.
The issue of corruption is no more a novelty in its form, and desperate individuals, no matter how the law seem good, free and fair, had always succeeded in getting away with non convicted atrocities, perhaps after the supreme verdicts reigned.
Corruption is sincerely older in comparison with Nigeria's independence. Genocides are the results recorded afterwards, and sincere people suffereth defeat for fighting on course of right to freedom of movements, expression, and life.
Most Nigerians are left with unhealed wounds as a result of civil war till date. The influence of the stereotyped discrimination of skilled, talented and sound citizens, and the results of casualty recorded so far still runs the system of government's vein and its politics. Then for a common citizen to be politically correct, he had to accept the idea of godfatherism, and his corrupt decisive mind, to make adequate success and progress, needed to run a successful government.
In 2012 the emergence of Nigerian President Goodluck Ebele Jonathan, GCFR, was like an emergence of foundational reform. Packing the majority of votes yet in it's freest and fairest; which saw him defeating the then very weak opposition and an ex- general, Mr. Muhammadu Buhari. However, since then his government had witnessed major attacks raging from religion extremist and separatism to mass political conspiracy, and critisms. But no matter the ugly circumstances, there is history to create. Both the entire federation and it's dooming democrat states has witnessed tremendous turnouts in various areas that had been the major strong hold of godfatherisms. The democrats are given more room to decide, and opinions accepted.
This very idea of freedom of speech and expression, and the need for rule of law are very dangerous in the minds of godfathers and as such, if not curtailed, would deliberately kick the president against his predecessors, that's exactly what happened, but it weren't that easy to cope with; most especially with the president's second term ambition which he subsequently lost.
Corruption isn't as easy to fight as most ignorant thought. And with massive exodus of those behind this demon to the opposition, makes the seating government relieved of all sorts of malpractices in service there by leading it's opposition who were keen to have them, stronger. But that's just shielding the very criminals, who were ought to be tried for all sorts of corrupt practices and massacre. Fighting this biggest demon ought to start with Political godfathers down to the lowest citizens. most citizens in massive support of the opposition and some with the seating government has this mentality of no survival without corruption, and that of extra judiciary, and massacre of innocents, together with criminals; but with proper 'rule of law' , all this are bias based, and most especially on ethnical sentiment.
Nigerian should be happy that they for the very first time experienced real democracy, and this lord of democracy has to be respected irrespective of his social status and tribe. He, despite the need for non- circular mandatory to remove his appointee, heeded to the unconstitutional cries of his fellow citizens, for him to be retained, in paving way for actual progress expected of a real democrat state. Goodluck Jonathan is simply a hero!
As for the recent Nigeria presidential election, thank God that the fate had to be accepted .Even amidst threat to life and various disfranchisement also via threat to the victim's properties of same stereotyped discrimination. Courtesy of incumbent president on peace accord agreement; the entire country would have being plagued into crisis. No more the usual inflammatory words and calumny of thoughts; but sudden rumors of immediate development.
But what about it's attributing? Lets say sensitive corporate merger talks are being held at the governments most secret ranch, it is easy to state that the nations incumbent manager and his coming successor are deliberating on issues that sincerely deal with expertise handle of the nation's business and how best to move her encomium forward without hitch.
It is not wise for unnecessary misunderstanding to be staged right in and any meaningful achievement recorded are best ascribe to the incumbent making it a total wrong to state that, 'developments are of- course because of the emergence of a winner -from governments opposition' probably due to the silent of hoodlums, and normalcy to the entire polity. But notwithstanding, citizens should be patient enough; after all the emergence of a new government can be very much beneficial than somehow wasteful years of one party system.
In politics, permanent interest seems possible. Oppositions are driven rather by their own perceived ideology, and after votes; experts assume that the elects are temporally the people's choice. Still not good enough, to have the entire federation governed by one party government, for the real benefit of her citizens. Only if Nigerians want to sustain any form of disregard plaguing the progress of democracy already achieved.
And also the need for Nigerians to be ready to still vote out any non performing government should be maintained as long as possible; and this should involve other political parties, and genuine citizens should lend to support with their voice, fighting for strong democrat state.
Not only that, such idea and action will bring the entire nation who are believed to be playing a politics devoid of sincerity to attention; realizing the need to remove sentiments in all its political affairs, but also, it's a way of making the citizens respect the electorates, and as well grant a total elimination to issues plaguing the entire nation.
Citizens had to desist from any act of partisan politics and focus mainly on how to ensure equity right of their fellow; and the need to totally rid the antics of corrupt practices, running the government's system. Desist from the unusual envious manner to their fellow country-men ought to be achieved, and object of lazy pride which had never contributed to the development of her economy. Arise!
Stylcef Ussr Columnist, Actor, and Sound engineer
Gmail: [email protected] Twitter handle @StylcefOfficial
Disclaimer:

"The views/contents expressed in this article are the sole responsibility of

Stylcef Ussr

and do not necessarily reflect those of The Nigerian Voice. The Nigerian Voice will not be responsible or liable for any inaccurate or incorrect statements contained in this article."
Articles by Stylcef Ussr