TALIBAN KIDNAP GANG CHIEF RELEASED EARLY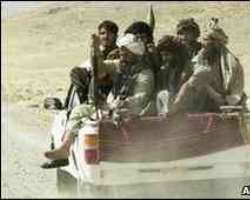 Akbar Agha was sentenced to 16 years in prison for kidnapping three UN workers in the Afghan capital in 2004. He was released from prison late last year.
His friends told the BBC he had been pardoned by President Hamid Karzai. But a spokesman said the president could not recall the matter.
The UN staff were the first foreigners to be kidnapped in Kabul.
One was a woman from Northern Ireland, the other two were men from Kosovo and the Philippines.
They were released after nearly a month in captivity.
Akbar Agha had used the kidnap to launch a Taliban splinter group, Jaish-ul-Muslimeen or The Army of Muslims.
But he and the kidnap gang were arrested and Akbar Agha was given a long jail sentence.
The BBC has now discovered that Agha was quietly freed late last year, possibly just before the festival of Eid al-Adha in mid-November. The UN is understood to have learnt about the release in the summer.
Controversial
Friends said President Karzai had pardoned him, on condition that he stayed in Kabul.
No announcement was made, but the former head of the United Nations in Afghanistan, Kai Eide, said he had been informed about the planned release.
Mr Eide admitted he had not raised the matter with the president.
The British embassy said it could not comment on whether it had been informed.
When the BBC asked the president's spokesman, he said Mr Karzai could not recall the matter.
One of Afghanistan's human rights commissioners said large numbers of pardons were being issued secretly and were largely going to those with money or influence.
Other controversial pardons which have come to light have been given to major drug traffickers and rapists.