The Reasons IGP Abba Suleiman (Rtd.) was Retired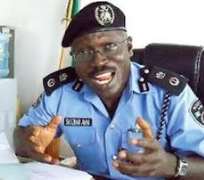 The news of the sudden retirement of IGP Abba Suleiman (Rtd.) by President Goodluck Jonathan was received by Nigerians as a shock. Indeed as a shock for Nigerians that have witnessed positive changes in the security of lives and property since he assumed office some months ago. Unlike his 2 predecessors under whose watch Abuja was invaded by the terrorist organization, Boko haram, Suleiman Abba ensured that under his tenure, the security of the Federal Capital Territory was not compromised. A legacy that will live after him.
According to reliable sources at the corridors of power,the retired gallant cop may have irked his Commander -in-Chief for not giving his cooperation in the alleged abduction of the INEC Chairman at a mellow-drama acted out by Godsday Orubebe. It was said that the IGP should have instructed the police officers that shielded the INEC Chairman to step off for the expected script to be accomplished. It was learnt that the IGP refused to compromise the safety and security of Nigeria's election umpire and that may have caused the concerned actors and the script writers embarrassments and consequently a demand for a pound of flesh from Abba Suleiman.
It was also gathered that IGP Abba Suleiman (Rtd.) may have invoked the wrath of the powers -that -be by appearing at the airport to welcome the President -elect, Gen. Muhammadu Buhari. This move was viewed by his employers as an act of insubordination by publicly identifying with a rival candidate.
The sins of Abba Suleiman that may have caused him his job will not be complete without the mention of his alleged presence on the presentation of certificate-of-return to the President-elect, Gen. Muhammadu Buhari. Our sources revealed that as soon as the retired IGP was spotted at the venue of the ceremony, it was concluded that he may have worked against his principal in favour of the opposition candidate, bearing in mind, a very poor outing of the ruling party in the concluded election.
Analysts wonder the rationale behind the sacking of the IGP, knowing that in a month's time, the entire cabinet will hand over to the new government. It is a public knowledge that other service Chiefs have visited the President - elect.