Enough to All This Xenophobic Nonsense in SA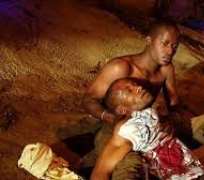 The South African government is a disgrace to the entire black race and it's time for so many countries to start considering their relationship with the Jacob Zuma lead administration. One will have think a responsible government will do everything within it power to stop this xenophobic nonsense. The big question on my lip is why has the government not been able to stop the attacks?
The world knows how all Africans stood strongly behind the freedom and liberation of South Africa. Our brothers and sister living in South Africa are now in constant fear as they witness the killings of their fellow blacks and family members without protection from the government. The SA people has betray the African brotherhood and sure will one day pay dearly for this inhuman and barbaric actions of some few bad individuals.Every reasons behind the attacks were unjustified and unwarranted knowing very well that black South Africans received enormous support from many countries in Africa during the struggle against apartheid.
"Your struggle was our struggle and your victory was our victory. South Africa's enemies were Africa's enemies and your freedom was Africa's freedom." There was a sense of brotherhood that allowed the battle against the apartheid to be carried on the shoulders of the entire black race and this binding bond has been destroyed right away. Nigerians and Africans in general sacrificed numerous resources to support the SA freedom fight and would not allow a situation where the South African government was failing to protect foreigners.
What will happen if there is retaliation in other countries against your nationals living in the Diaspora? God forbid and where will Africa end up? South Africans are been too quick to forget the sacrifice made by many countries that rallied behind them and now we are being repaid with xenophobic murders. I see a very terrible future for the SA people in the black region, as the country has been able to successfully isolate itself. Theunwillingness of the Jacob Zuma lead administration has put the future of SA living outside the shores of their country in great jeopardy.
Comrade Ahmed Omeiza Lukman (Kiev, Ukraine)