Abia Re-Run Polls: SEPA Cautions INEC, Military Against Manipulation Of Results
...Calls For Otti's Probe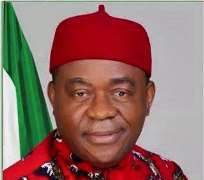 A socio-political group known as South East Progressives Assembly(SEPA) has cautioned against electoral fraud and irregularities that may be perpetrated to subvert the popular will of Abia people and undemocratically award the governorship of the state to Dr. Alex Otti of the All Progressives Grand Alliance (APGA) during the Saturday April 25 rerun election in the affected polling units of the state.
SEPA in a statement signed by Ebere Uzoukwa and Comrade Munonye Maximus, President and Secretary respectively and made available to newsmen alleged a possible collaboration between the military and some corrupt INEC officials to divert the results sheets and fabricate outrageous figures that will award victory to the APGA candidate at the end of the day.
The statement reads: "The South East Progressives Assembly has been alerted of the nocturnal meetings involving the Abia State Gubernatorial candidate of the All Progressives Grand Alliance(APGA), Dr. Alex Otti, some INEC officials, representatives of the State Returning Officer, Prof. Benjamin Ozumba and top military officer from 82 Division of the Nigerian Army to perfect plans on how to rig the Saturday April 25 rerun election and possibly return the ex-Diamond bank chief as governor of Abia state at all cost. We gathered that the said meetings have the sponsorship of a former governor of Abia state, a former Chief of Army Staff also from Abia state and the Nigerian-born African richest businessman. A whopping sum of One Billion Naira(N1,000,000,000) is said to have been earmarked to prosecute and actualize this infamous project of 'Return Alex Otti At All Cost'.
It is therefore our fervent wish to remind INEC and other stakeholders that Abia people have already spoken on April 11 through their massive votes to the candidate of the Peoples Democratic Party(PDP), Dr. Okezie Victor Ikpeazu. He presently leads Dr. Alex Otti of APGA with 80,053 votes. The total votes in contention in the affected polling units though with 179,224 registered voters are not more than 90,000 after considering non- collection of PVCs and other recurring factors. Therefore, with voter apathy that will naturally characterize the election and INEC only approved card reader accreditation, no sane person can ever predict victory for Dr. Alex Otti as he cannot garner votes that will cancel Dr. Okezie Ikpeazu's 83,053 lead. This obvious fact perhaps informed the reason why Otti and his co-travelers desperately plan to fabricate results to steal Dr. Ikpeazu's mandate on Saturday April 25. But we are optimistic that Abia people will definitely resist any move to subvert their collective will and aspiration.
Again having observed this unimaginable level of desperation that drives Dr. Alex Otti inordinate ambition to take over Abia at all cost, SEPA opted to independently investigate this ex-banker in respect to his activities as an employee of the Diamond bank. Our findings are revealing and shocking. As a socio-political group that lacks powers to indict, we therefore seizing this opportunity to call upon relevant government authorities such as the Economic and Financial Crimes Commission to as a matter of urgency commence investigation on Dr. Alex Otti. But one thing we must not fail to disclose is that the Arochukwu-born ex-banker is desperately seeking constitutional immunity to evade prosecution".