RISING RATE OF AGE-RELATED EYE PROBLEMS WORRIES OPHTHALMOLOGIST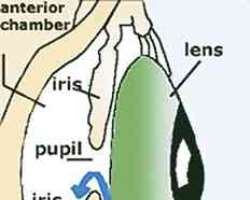 An eye afflicted by glaucoma
An ophthalmologist with the Eye Foundation, Lagos, Dr. Ogugua Okonkwo, has raised the alarm over the increasing rate of age-related macular generation, a medical condition which usually affects the aged.
Okwonkwo stated this during a symposium organised by a multinational pharmaceutical company, Novartis, to inaugurate its new drug for the treatment of the condition, Lucentis (Rainibizumab).
He said that contrary to the belief that the condition, which results in a loss of vision, was found mainly among Caucasians, it was on the increase among Nigerians.
Okonkwo estimated that about 147,919 Nigerians could be suffering from the condition though there were no official statistics on the prevalence of the condition in the country.
He described AMD as the largest single cause of blindness in the elderly in the developed world.
According to him, the World Health Organisation has classified AMD as a condition affecting people over the age of 50 and involves the loss of the individual's central field of vision.
'It occurs when the macular (or central) retina develops degenerative lesions and is thought that circulatory insufficiency, with reduction in the blood flow to the macular area, also plays a part,' he said.
Apart from aging, Okonkwo listed tobacco use, genetic disposition, light coloured eyes, arterial hypertension, ultraviolet rays and an unbalanced diet as the risk factors for AMD.
He however disclosed that people at risk could be protected against loss of vision from AMD with antioxidants.
'Antioxidants may protect cells from oxidative damage, which may partially be responsible for the effects of aging and macular degeneration. Lutein is an antioxidant that has been found to lower the risk of developing macular degeneration. Patients with an elevated risk for developing AMD, might consider adding more lutein-containing foods to their diet.
'Good sources of lutein include green leafy vegetables as well as fruits, berries and vegetables with red, orange, and yellow pigments,' he further said.
In his presentation, the Area Office Head, Novartis West Africa, Mr. Chris Ufomadu, said the introduction of Lucentis by Novartis was designed to help Nigeria reduce cases of blindness resulting from AMD.
According to him, the company would partner with all stakeholders to ensure that the condition does not become a major health problem among Nigerians aged 50 and above as it is now in the developed countries.
Ufomadu disclosed that the company was introducing the drug to the Nigerian market at a reduced price to ensure that it will be affordable to a large number of patients in the country.