Uyo Agog For Udom's Victory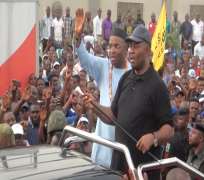 Jubilant youths, women and PDP supporters numbering over fifty thousand thronged the streets of Uyo, Monday to celebrate the emergence of Mr. Udom Emmanuel as the Akwa Ibom State governor-elect.
The mammoth crowd which matched from Uyo township stadium, Ibom Plaza to the millennium globe at Wellington Bassey Way end was received by Governor Godswill Akpabio and the Governor-elect, Mr. Udom Emmanuel with other PDP State executives, who joined the teaming crowd to celebrate the victory.
Governor Akpabio who was driven in an open van with the governor-elect, Mr. Udom Emmanuel acknowledged cheers from the crowd who waved at him along the streets.
Addressing the gathering, Governor Akpabio flanked by the wife Ekaette said it was not a day of speeches but rather a day of celebration because he would be handing over to a competent man who would drive progress to the door steps of the people.
He described the road walk as the people's way of showing greater support for the PDP and the emergence of Mr. Udom Emmanuel as Governor-elect unlike the kind protest rally carried out by few youths believed to be sponsored by the opposition.
Governor Akpabio lauded the people of the State for supporting continuity and transformation and assured that Akwa Ibom State can never be the same again with the emergence of Mr. Udom Emmanuel, a seasoned banker.
The governor saluted the State Executive Council members, the PDP State exco, the campaign team and the generality of Akwa Ibom people for the massive support given his administration and by extension the victory of Udom Emmanuel at the poll.
He said he has laid the foundation for the transformation of the State in the last eight years and expressed the hope that the incoming administration of Mr. Udom Emmanuel will consolidate on the gains.
The Governor-elect, Mr. Udom Emmanuel said would ensure continuity, wealth creation for the people, noting that his vision would be to collaborate with the stakeholders to bring in development without relying on the government at the centre and thank the youths for standing by the divine mandate which was the slogan for his campaign.
He assured the people that he would never be cowed by what he called satanic propaganda but would rather secure the future and employment of the youths.
He also stated that his vision would be built on surpassing and sustaining superior performance, while building bridges of unity across the State.