Akinfolarin Simidele Weds Akomolafe Francis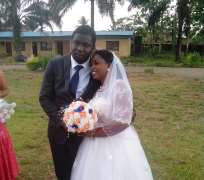 It was a day of joy for the families of Prince (Barr.) Mike Akinfolarin and Late Pa Corlineous Akomolafe has they joined their children hand in marriage on the 21st of March 2015. The ceremony saw one of the largest gatherings of who is who in the political, business, defense and academic sectors in the country. The occasion was witnessed by top government functionaries with their entourage such as the honorable commissioner for Adult and Technical Education, Ondo State Barrister Remi Olatunbora, Ondo State commissioner for youth development and sports Hon. Bekekhimi Idhiari, Hon. Afolabi Iwalewa (member house of assembly), directors from FIRS, Commissioners of police among others.
The wedding ceremony which took place at First Bubbles Hotel and Suite, Okitipupa started with the engagement at 8:00am and ends at 11:30am after which the new couple, parents and notable personalities drove down to the registry in a convoy with tight security. The over 3,000 capacity hall was filled with heavy crowd as the guests had come from different parts of the country in state of the art cars and dressed in various styles and colours during the reception which started by 1:00pm and ended by 4:45pm. Traditional rulers where spotlighted at the event which include His royal majesty the Jegun of Idepe Okitipupa, Regent of Akotogbo kingdom, traditional chiefs, a senatorial aspirant in Ondo State Barrister Morayo Lebi among others.
Simidele, the bride dressed in beautiful golden-white wedding gown and the groom Francis also dressed in attractive foreign suit. It however, took the policemen and other security operatives' time to control the series of photo journalists that blocked the guests and the couple on their way out of the reception in bid to take their photographs. Men of God from Methodist church in Lagos, Anglican and MFM were also present at the occasion. Prayers and marital words of encouragement were rained on the couple. The groom however expressed his unreserved happiness that most essential factor in his bride is not just her beauty but her good character been coined from a responsible dynasty of Akinfolarin. It is said that whoever finds a wife finds a good thing and obtain favor from the Lord. It is believed that favor will remain with the couple forever.
HAPPY MARRIED LIFE!