PDP Condemns Gov Amaechi's Attempt To Disrupt Governorship Election In Rivers
Commends Rivers People For Voting PDP........Rejects Call For Cancellation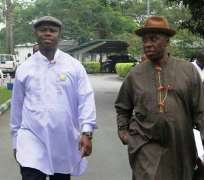 The chairman of the Peoples Democratic Party, PDP, Rivers State, Bro Felix Obuah says attempts by Governor Rotimi Amaechi to disrupt the State Governorship and Assembly elections held on Saturday, April 11, in the State by illegally storming voting units, where he was not registered, in company of his Chief of Staff and failed APC House of Representatives Candidate, Mr Tony Okocha and armed men, when he was not an electoral staff of the Independent National Electoral Commission, INEC or an election observer was a contravention of the electoral law.
Governor Amaechi has no right under the law to travel round the State and monitor elections, incite voters and campaign openly on an election day, Bro Obuah said in a press statement signed by his Special Adviser on Media, Jerry Needam.
The PDP condemns this brazen act of lawlessness by Governor Amaechi whose high level of rascality is unbecoming of a man that holds the exalted office of the Governor of a State.
The PDP also describes as disgraceful and infantile the use of the APC President-elect, Buhari's name by Gov Amaechi to threaten and harass security officers.
PDP applauded Rivers people for massively voting for the Governorship candidate of the PDP, Barr Nyesom Wike and State Assembly candidates of the party.
The PDP described the call for the cancellation of Saturday's governorship and House of Assembly elections by the APC as unreasonable, provocative and a call for anarchy borne out of desperation on the part of the State Governor, Rotimi Amaechi to remain in power even after serving his legitimate 8 years.
Describing Dakuku Peterside, Rotimi Amaechi and the APC as bad losers, the PDP called on them to congratulate the PDP Governorship candidate, Barr Nyesom Wike for the massive votes he received, justifying the love the people of the State have for him and the PDP.
PDP urges Rotimi Amaechi, Dakuku Peterside and the APC to learn from President Goodluck Jonathan who conceded defeat and congratulated Buhari.
We therefore, reject calls for the cancellation of the governorship and State Assembly elections..
The elections were peaceful, free and fair. We are satisfied with the conduct of the elections.. We hail the outcome. It is the true verdict of Rivers people.
Rivers people have spoken.
Signed:
Jerry Needam
Special Adviser on Media,
To the State Chairman of PDP,
Bro Felix Obuah
Monday, April 13, 2015