Okupe Embezzled N100 Million Campaign Fund Of Labour And Accord Party Respectively In South West.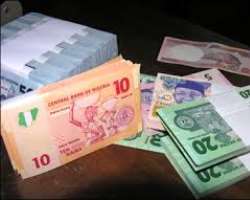 The Senior Special Assistant to the President on Public Affairs, Doyin Okupe from a reliable source in the State House is in serious trouble with President Goodluck Jonathan.
It was reliably gathered that President Goodluck Jonathan gave Dr Okupe the sum of N100million in Dollars to mobilize the Accord and Labour Party in the South West since they agreed that President Goodluck Jonathan is their joint Presidential candidate.
Problem however started when Dr Okupe start putting up a mansion which was demolished up to four times to meet his taste.
He also bought a Range Rovers HSE Sport while his workers in the State House were not paid for three months.
"I have taught that the Election period will be our breakthrough but unfortunately, it was the worst as Dr Okupe could not even engage us in any of the campaign activities despite the facts that we are in "Public Affairs" in Presidency." a senior staff in his office said.
I think the man is good but his dilemma is his elder brother, Wemimo Okupe and wife, Yemisi Okupe. In fact, Wemimo Okupe is the Chief Operating Officer that controls the finances of Dr Doyin Okupe according to our source in the State House. He determines who to pay and what to pay to any of the staff including those that worked in the defunct Federalist Newspaper owned by Dr Doyin Okupe.
The Federalist Newspaper was another source which Dr Doyin Okupe used to siphoned money from Presidency and friends of the Presidency.
A female staff of the defunct paper said the Newspaper was operated like a cult business and that was the major downfall of the paper!
Some days to the March 28 Presidential election, a message was sent to all the staff through the confidential secretary to Dr Okupe that all staff should stop coming to the office without any information on their owned salary of four months.
"I am a family woman with children at home, how do I cope without four month salary and Easter is by the corner" lamented another staff of the office.
Sources said the wife; Yemisi Okupe is the brain box of Dr Okupe. He determines what Dr Okupe will do especially with the staff.
"Unlike before, Dr Okupe would have been running around to ensure we are paid our salary on time but this time around, the wife has told him not to bother himself. She taught we are okay with the food she prepares for us every Thursday" said another female staff that preferred to be anonymous.
"We are totally confused now if we would ever get our salary because we have not heard anything from Dr Okupe and May 29 is just less than a month now" said another staff.