Light Shines In INI LGA After 7 Years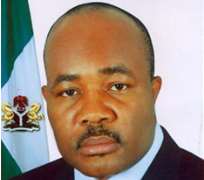 Residents of Ini Local Government Area (LGA) have expressed appreciation to His Excellency, Governor GodswillAkpabiofor fulfilling his promise to restore power supply to the community.
Ini LGA had been without power supply for more than 7 years until power was recently restored to the LGA.
The Senior Special Assistant to the Governor on Power, Dr. Victor Udo while addressing stakeholders in Ini LGA disclosed that "the project was the brainchild of Mr. Udom Emmanuel when he was the Secretary to the State Government"
Speaking on the enormity of work done, the SSA accompanied bythe former LGA Chairman, Rt. Hon. Emmanuel Ebe, said "several 33kV High Tension and Low Tension poles were planted to restore the power line from Itu substation via Ikono and Ibiono Local Government Areas"
He added that "several transformers were rehabilitated while new ones were installed along with associate accessories and armored cables to restore power supply in Ini LGA"
The SSA expressed appreciation to the people of Ini for voting Chief GodswillAkpabio as the Senator-elect for Ikot Ekpene Senatorial district and IboroEkanemas a member of the Federal House of Representatives.
Key stakeholders in Ini LGA such as the Paramount Ruler, the LGA Chairman,and theCommissioner for Women Affairs including the Village Heads, Clan Heads, political leaders and residents of Ini LGAcommended His Excellency, Governor GodswillAkpabio for keeping his promise.
The stakeholdersreaffirmed their commitment and the commitment of the people of Ini to vote Mr. Udom Emmanuel for Governor and Emmanuel Ekpeyong for State House of Assembly.
Disclaimer:

"The views/contents expressed in this article are the sole responsibility of

Michael Dada

and do not necessarily reflect those of The Nigerian Voice. The Nigerian Voice will not be responsible or liable for any inaccurate or incorrect statements contained in this article."