Only Clowns Still Doubt Peter Obi's Inconsistency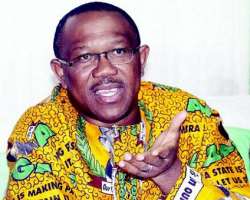 Paid e-thugs of the former governor turned political hand bag of Uche Ekwunife will always shout in a fruitless effort to present their paymaster as a saint. Was Tinubu not tempted and tried by the then Federal Government to dump AD/ACN?
With all the troubles, Tinubu ensured the spread of his party and Yoruba political voice beyond his State.
But our inconsistent saint, as a governor, managed APGA like his private estate ensuring that no one raised a voice and finally started an unending war with the only man that dared to; Sir Victor Umeh.
Today, Tinubu's one state-party has transformed into a mega party with a President-elect while Obi's one-state party got rewarded with a high level betrayal as Peter Obi after enjoying his bounty grudgingly handed over to an APGA governor, quickly defected to PDP and commenced ill-fated attacks against Gov Obiano, Ndi Igbo and APGA.
From steady blackmails by his social media thugs to paid editorials in some gullible dailies.
Last Saturday, Obi led a team of election riggers comprising of Army Generals, senior military and police officers and desperate PDP elements armed with an Armoured Personnel Carrier to intimidate, molest and meme APGA faithful. Why? To thwart the wishes of Ndi Anambra who overwhelming voted for APGA.
Shame on Peter Obi. The very first time the people of the state will, without being coerced, wholeheartedly and in large numbers vote for APGA candidates due to the developmental strides of give Obiano in just one year in office. Obi destroyed it. Shame!
As a governor, Obi had cursed and condemned PDP members in Anambra for using their connections with the power at the centre to cause mayhem in the state. Last Saturday, Peter Obi, in his first opportunity, used his connection to, not just cause mayhem, but disturbed the peaceful state, raped democracy and allowed the killing of 3 police officers and beating up of Obijackson, an illustrious son of Anambra State.
Most persons today celebrate Tinubu's story with AD. What is Peter Obi's story with APGA?
APGA saved him from being deceived by ANPP and got him elected as governor; APGA gave him a historic second term victory; Peter's dismal performance stopped APGA candidates from winning Senatorial Elections (including Prof Dora Akunyili); APGA lost Imo State to Peter's lack of wider vision; Peter dumped APGA immediately after handover; and finally, Peter joined PDP to rig out APGA candidates by rewriting the election results.
That's the story. I await to be told a better story about Peter Obi and APGA.
So, only clowns still doubt the inconsistency of Peter Obi
Kinsley Udemezue
Take It or Leave It!