2015 General Elections Reality: Reasons Why PDP Is Sinking, APC Rising To Landslide Victory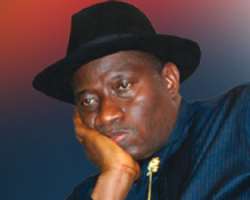 In 2011, the Peoples Democratic Party (PDP) was the toast of electorates in Nigeria. President Jonathan political slogan of "NO SHOES TO WEAR WHEN HE WAS A LITTLE BOY" struck the hearts of Nigerians and it earned him unprecedented political popularity.
The PDP campaign team in 2011 were proactive in their "choice of campaign messages." 2015 is a total departure from the 2011 well crafted political advertising that evoked sympathy for President Goodluck Ebele Jonathan. He extensively used NOLLYWOOD STARS in several commercials that doubled his acceptance as the preferred presidential candidate. Everything worked out fine for GEJ in 2011.
The sympathy for GEJ was well deserved because of the way and manner he was treated when late President Umaru Ya'Adua died. It was not easy for GEJ. The country was at crossroad and Senate President David Mark had to invoke the "Doctrine of Necessity" to fully bring GEJ on board as Nigeria's President. This development was sad and condemned by majority of Nigerians and the international community. He won the Presidential elections as expected.
GEJ SINKING!
Nigerians expected President Jonathan to do certain things and act in such a proactive way so as to bring the dividend of Democracy but alas he choose to display mediocrity and gross incompetence in handling the affairs of our great country. Let's take a look at some of the FAILURES of GEJ for straight six (6) years:
(1) SLOW IN SOLVING PROBLEMS: It is a truism that President Goodluck Ebele Jonathan is very slow in handling problems as they show up. Strike by Polytechnic Lecturers lasted for nearly 12 months before GEJ and his team were able to provide temporary solution. Strikes over fuel subsidy removal almost crippled Nigeria before GEJ managed to resolve it. ASUU strikes kept students and lecturers at home for nearly 10 months before PDP and GEJ could scale over it. National Hospital staff and doctors were on strike for nearly 12 months, thousands of Nigerians died in the process before GEJ deemed it necessary to intervene.
Chibok Girls have been in the thick forest for nearly a year and GEJ is watching, telling Nigerians "cock and bull" stories of the efforts his PDP government is making to bring back our girls. The question is, if two of GEJ's biological daughters are among the CHIBOK girls how long will it take him and his government to rescue his two daughters?
Boko Haram insurgency has been a socio-political problem in Nigeria and GEJ is yet to find a better way of handling the security risk that has bedeviled our nation. For the first time in Nigeria, the police almost went on strike over poor condition of service before GEJ started thinking of what to do. PDP had internal crisis and it took GEJ several months to solve ordinary agitation within the rank and file of the PDP. The list is endless. It goes to show that GEJ lacks special skills and leadership potentials to lead us as President. He is very weak and not qualify to be a Local Government Chairman. GEJ is doomed and on his way out of Aso Rock Villa for good.
(2) CORRUPTION: GEJ's six years rule has crumbled Nigeria's economy. Nigerian National Petroleum Corporation (NNPC) has been extensively used as a conduit pipe to siphon our monies into coded bank accounts across the world. The House of Representatives raised several alarm over billions of dollars taken way by the Petroleum Minister with the knowledge of GEJ but nothing tangible was done till date.
Former Central Bank of Nigeria (CBN) Governor now the Emir of Kano, His Royal Majesty, Lamido Sanusi, corroborated the findings of the House of Representatives but GEJ decided to pay deaf ears to the high level corruption that is going on in NNPC till date. Nigerians are suffering but he was able to finance his campaign with billions of dollars.
The Director of Media and Publicity of GEJ Campaign Organisation, Chief Femi Fani kayode stole so much money when he was Aviation Minister under President Olusegun Obasanjo. Corruption charges were pressed against him and case still pending in Court. GEJ decided to appoint him as his Campaign Media Director to do some dirty jobs for him even though Kayode is facing criminal charges in Court. This goes to show that Mr. President lacked the moral justification to fight corruption which has crippled the nation.
President Jonathan's wife, Dame Patience Jonathan told us few days ago that it does not make sense to jail corrupt people and that "I cannot take food to my husband in prison for 100 years." Whatever that meant is for another day, what is crystal clear is that Dame Jonathan acknowledges corruption as either legitimate or should be taken as a way of life by Nigerians. This is sad enough, which is why she and her corrupt husband must return to OTUEKE COMMUNITY next Monday.
(3) GROSS INCOMPETENCE: It is obvious today that Dr. Ngozi Okonjo Iweala and Dame Patience Jonathan are President Jonathan's political mentors. The Nigerian economy is in the hands of Dame Patience, Dr Ngozi-Iweala and Petroleum Minister, Mrs. Diezani Alison-Madueke. These three women decides the economic future of Nigeria. Little wonder we are not making any progress as a nation.
GEJ is low in communication. His speeches are not strong enough to move even a fly. I feel sad and pained to see Nigeria's President talk like someone left in far away 18th century. He is the worst President on earth in terms of speech making and political interaction.
For me, I do not want to see GEJ on my television screen from next Monday. He has shown sufficient gross incompetence beyond human comprehension and mismanaged Nigerian economy for six years. His men and women in government are feeding fat on a daily basis through unprecedented high level corruption, flaunting their ill-gotten wealth with reckless abandon.
GEJ's MUMUISM is monumental and cannot be allowed to continue. Nigerians are tired and feed-up of his "lame-duck" leadership style that has crashed our image and reputation in the international community.
Time is absolutely ripe to show GEJ the door. He's got to go. Otueke community is waiting to receive him back home. Reactions from across the country points to the FACT that the end of PDP 16 years of massive corruption and misrule is here. The wind of CHANGE is blowing and the first casualty will be President Goodluck Ebele Jonathan on March 28, 2015.
Disclaimer:

"The views/contents expressed in this article are of (the) AUTHORS (or Contributors or Columnists) and do not necessarily reflect those of NigerianVoice. NigerianVoice will not be responsible or liable for any inaccurate or incorrect statements contained in this article."