Obiano talks tough, as Operation Kpochapu kill 5 Kidnappers, parade 20 other Suspects.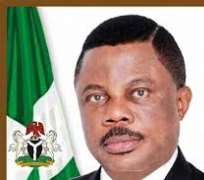 The war against criminals and criminality in Anambra State by the administration of Governor Willie Obiano has continued to yield positive results and provide the much needed peaceful environment for the 2015 general elections with series of successes recorded by the security operatives against men of the underworld. The latest is the killing of four members of a kidnap gang including a gospel band leader, one Paschal Obinna Offor from Arondizuogu, Imo State in a gun duel yesterday at their den in Eziowelle, Idemmili North Local Government Area.
Leader of the gang who sustained bullet wounds after the encounter were also caught while 18 other suspected armed robbers, rapist and a dealer in counterfeit currency were paraded.
Speaking to newsmen at the Governor's Lodge, Amawbia on the breakthroughs recorded by the Police in the month of March this year, governor Obiano warned." Criminals cannot be allowed to derail our match to greatness in Anambra. My government and the security agencies are ever ready to deal with unscrupulous elements that breach law and order especially before, during and after elections. I wish to assure law abiding citizens that their safety and that of our guests is assured" He commended the security operatives for the arrest of the Kidnappers, armed robbery suspects/receivers of robbery items, arrest of false informant and rapists within the period.
Confirming the feat achieved by officials of Operation Nkpochapu operating under the State Joint Security Task Force, the Commissioner of Police, Mr. Hosea. Karma pointed out that on March 25, this year, following a tip-off, SARS operatives raided the kidnap den at Eziowelle where the late Gospel Artiste, Obinna Offor, the leader of the gang one Abuchi Arinze Onoja from Enugu-Ezike, Igboeze North LGA, Jude Obi from Asaba, Delta State, Chinedu Emelue from Anaku in Ayamelum LGA of Anambra State, Uchenna Chike from Awkuzu, Urama Chizoba Jude from Enugu-Ezike in Igboeze North LGA engaged them in a shoot-out.
Mr. Karma stated that in the process, the security operatives freed one victim, Jacob Uchenna who was kidnapped on March 22, this year along Limca Rroad, Onitsha but was rescued unhurt.
Items recovered from the gang include two AK 47 rifles, four AK 47 magazines, one pump action rifle, 177 rounds of 7.62mm live ammunition, 30 live cartridges,
The Police Commissioner disclosed further that the security operatives had on March 25, this year, arrested one Emeka Ikegwuonu, 18 years, accused of robbing one Mrs. Josephine of a set of jewelries valued at about N1.4 million, one Nokia phone valued at N15,000 in addition to cash to the tune of N40,000 which he sold to one Aljaji Ibrahim Garuba, 45 years who was later arrested by the Police at Nnewichi for receiving the stolen items.
The Police Commissioner also said the Police had earlier in February 19, this year, arrested one Echezona Ibekwe and Ikechukwu Ukoro, both of Obosi in Idemili North LGA of Anambra State along Obosi Flyover. The acused persons robbed one Mrs. Edith Eduzor of her handbag containing the sum of N20,000 and some jewelries at Umuagu village Oba in Idemili South LGA of the State.
According to Karma, similar breakthrough was achieved when on March 8, this year, when one Ifeanyi Uzor, Michael Ifenatu and three others still at large intercepted passengers of an L-300 Bus on transit from Owerri to Onitsha and at gun point robbed them including one Dr Mrs. Nneka Esomonu of all their valuable property like IPAD, Phone, valued at N100, 000 and certain amount of physical cash at New Park Owerri Road Onitsha. He confirmed that two suspects who fled from the scene were later arrested on March 19, this year with a National Driver's License bearing the name of Dr. Mrs Nneka Esomonu being part of the items robbed from her.
Mr. Karma revealed that on March 15, this year, one Uche Madu, 20, of Eziama village, Uli in Ihiala LGA and Daniel Ndidague of Ukpo who specialized in snatching of motorcycles were arrested for robbing one Mrs Uche Blessing and Uche Chinaza of Ukpo of a cash sum of N18,000, mobile shell handset valued at N10,000 on gun point.
Furthermore, he disclosed that on March 15, this year, the Police arrested one Anthony Anyaegbunam from Uli for allegedly robbing one Ezike Amarachi of Umuama village, Uli of two handsets valued at N50,000. He said the suspects and others at large who posed as passengers robbed and shot the victim at the back with a locally-made pistol. He also pointed out that on March 18, this year the Police arrested one Ifenatuoha Oformairu, 40 years of Ofufu Amakwe village, Ozubulu for allegedly raping one Chioma (surname withheld) from same area.
The Commissioner of Police highlighted another case which occurred on March 21, this year when one Mrs. Anthonia Adeli of Nando raised a false alarm that she was kidnapped by one Chibogu Jideofor and others, but she managed to escape. However, following investigation, the Commissioner said, that it was discovered that one Chibueze Adeli, her son, had grieviously assaulted one Oluchukwu Olise, the wife to Chibogu for refusing to marry him and was on the run before Mrs Anthonia came to give the false information to mislead members of the public.
Moreover, he said that the security operatives accosted another five-man gang preparing for armed robbery operation at Obosi community, when men of the Special Ant- Robbery Squad (SARS) operatives from Ogidi and vigilante group from Obosi moved to Afa-Dike village Obosi, where both Ebuka Maduka and Nwanegbo Ebuka were arrested with one double barrel pistol while three others escaped from the scene. The Commissioner of Police also hailed commitment of His Excellency governor Obiano to crime fighting and the unity amongst the Police, Army, Navy and other security agencies for cooperating to achieve the feat against criminals.
On the forthcoming general elections, he said about 8,000 police men have been deployed to man Polling Units across the State during the exercise in addition to other security who have been agents tasked to carry out other electoral assignment. He reiterated that the Police and other security operatives are ready for the elections, and reassured members of the society to remain law abiding, stressing that any criminal who refuse to quit the State or repent, will be caught by the long arm of the law and advised people with criminal intent to leave Anambra State.
Editor's Note:
Viewers discretion is advised on the attached photos
Five Kidnappers shot dead in their den during exchange of gunfire yesterday at Eziowelle, Dunukofia Local government Area, Anambra State.
Dealer in Counterfeit currency, Mr. Ifeanyi Ezeofor also nabbed during raid by the security operatives.
Gospel Artiste and Kidnap Kingpin Mr. Pascal Obinna Ofor from Arondizuogu Imo, State is one the Kidnappers shot dead in their den yesterday at Eziowelle, Dunukofia Local government Area, Anambra State.
put Anambra State Commissioner of Police, Mr. Hassan Karma briefing the Media along with other Service Commanders in the state on the readiness of the Special Force, Operation Kpochapu to maintain the peace during and after the elections in Anambra state.a description
put a dePix 4: Eighteen others caught in various acts of crime criminalityscription