SANUSI'S NEW BANKING MODEL: HOW IT WILL WORK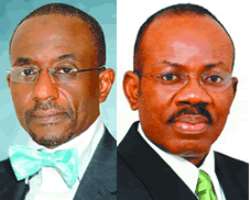 Sanusi and Ovia
The death knell sounded for universal banking recently by the Central Bank of Nigeria (CBN) has left in its wake raging controversies on whether it is not the magic cure-all elixir for the nation's banking ailments and its comatose economy.
According to the apex bank, within the next 18 months, it would end this model that permits deposit money banks to undertake all types of financial services, barely 10 years after its adoption, because it is no longer healthy for the system.
Speaking after its 298th Bankers' Committee meeting in Abuja, the CBN's Director of Banking Supervision, Mr. Samuel Oni, reportedly said that the recent reforms in the sector ha revealed that the model has exposed the banks to high operating risks.
By this, the apex bank's spokesman took a cue from the August 14, 2009 statement of his boss, Mallam Sanusi Lamido Sanusi, while announcing the result of examination of the books of the first five rescued banks.
According to him, the troubled institutions had a disproportionately heavy concentration of loan exposure to high-risk areas such as the stock market and oil and gas sector relative to the rest of the industry.
Sanusi added: 'Of a total loan portfolio of N2.8 trillion, margin loans accounted for N456 billion, and oil and gas loans made up N487 billion; aggregate non-performing loans totalled N1.143 trillion, or 40.81 percent of total loans.'
While giving approval for the January 1, 2001 take-off of the universal banking model in the country, the apex bank had then redefined banking business in Nigeria as: 'the business of receiving deposits on current, savings or other accounts; paying or collecting cheques drawn or paid in by customers; provision of finance, consultancy and advisory services relating to corporate and investment matters; making or managing investment on behalf of any person; and the provision of insurance marketing services and capital market business or such other services as the Governor of the Central Bank of Nigeria, may, by gazette, designate as banking business.' Rolling out the guidelines for the new model, the apex bank said that 'banks are free to choose which activity or activities to undertake (money or capital market activities or insurance marketing services or a combination thereof) and are expected to comply with the guidelines specified for such activity or activities. Consequently, a bank will be regulated based on the type of activities it engages in.' As a result of this, a single uniform licence was issued to all conventional banks desirous of practising Universal Banking without delineation as to 'commercial' or 'merchant', after returning the old licence to the Central Bank for cancellation. Non-conventional banks like the development and other specialised institutions were asked to continue to perform their specialised roles.
Capital market
Consequently, apart from the conventional banking functions like receiving deposits on current, savings, or other accounts, paying or collecting cheques drawn by or paid in by customers, provision of finance or credit facilities, banks, under the Universal Banking programme, could choose to undertake one or a combination of the following: capital market activities like underwriting/issuing house activities including broker-dealership. Underwriting in Nigeria includes standby and firm underwriting. Issuing house activities essentially involve arranging the issue of equity and/or debt instruments on behalf of another company, local, state or federal governments and the provision of advisory services on funding opportunities, capital restructuring, etc.
Apart from the capital market activities, the universal banks could also engage in Clearing House activities, insurance activities such as agency services, brokerage services , marketing services, underwriting services, loss adjusting services , underwriting services, re-insurance services, retrocessionaire services, reinsurance services Banks may provide insurance marketing services directly. However, banks may provide underwriting and re-insurance services indirectly through a subsidiary or an associated company. Some of the banks' problems in the capital market actually started when most of them used their capital market subsidiaries to engage in share price manipulation and other sharp practices not to mention granting margin loans without adequate collaterals. This resulted in the colossal loss of over N1 trillion by the 24 universal banks in the country. This an analyst attributed to Nigerians' get-rich-quick syndrome. According to him, we are a country in a hurry to join the rest of the world in creating wealth and lifting increasing percentage of the people well above the poverty line'.
To prevent recurrence, Oni said: 'We want a situation where banks will concentrate on banking activities and the way we will be doing it is that we will be issuing separate licences to each model of banking, in other words, we will discontinue with the universal banking licensing regime.This means that we will issue licences for commercial, microfinance, regional, national, international, mortgage and investment banking businesses. We also recognise that there would be some specialised banking, like non-interest banking, agriculture banking and a separate licence would be given for these purposes.'
To this end, he explained that the apex bank would work with all stakeholders, such as the Corporate Affairs Commission(CAC), Securities and Exchange Commission(SEC), Nigerian Deposit Insurance Corporation(NDIC), and the National Insurance Commission(NAICOM) to work out how the banks would be recapitalised , saying that each bank would be required to recapitalise according to its new business models. He noted that the new banking model would allow the apex bank to group deposit money banks into any of the following banking services - commercial banking, international banking, investment banking, regional banking, national banking, mortgage banking and microfinance banking.
The CBN spokesman added that any bank that wanted to go into any of the banking services would be issued a separate licence that would guide its operations. According to him, 'We have decided to ensure that the quality of the banks are enhanced; given this as a background, we will come up with a model that we believe would support that kind of stability.We are clearly reviewing the universal banking model and we are coming up with a structure that would help us make banks to do business in terms of assisting the economy.
'So, on the basis of that, we have come out with a holding structure model for the financial sector and what that means is that we are advocating a structure we think will allow banks to transform all their subsidiaries into a non-operating holding company in which the banks would become a subsidiary of that non-operating financial holding company. 'So we are going to be looking at how to work out the details in terms of the transition arrangement from what we presently have and we are going to have sufficient time of between 18 to 24 months to transmit into that framework,' he said.
Earlier, his boss, Sanusi, had given a hint on the model at an event in Lagos when he said: 'The question we are asking ourselves is must every bank compete in the same space? Must every bank be an international bank? Can we not have regional banks? Can we not have specialized banks? What we are doing now is categorizing banks and we will come out with different capital requirements for the banks'.
Recipe for confusion
However, faulting the new policy, Mr Victor Shodipo of Renaissance Professionals, described it as a recipe for confusion in the financial system. According to him, the financial system is already over-saturated with different categories of banks which the apex bank is already finding it tough to oversee.
His words: 'How did the alleged non-categorization of banks lead to the current 'created crisis' in the Nigerian banking sector? What has non-categorization of banks got to do with the high level of non-performing loans in the Nigerian banking system? Would differential capital base of banks help strengthen the Nigerian banking sector? It is really sad that the CBN Governor, Sanusi Lamido Sanusi, lacks an understanding of the Nigerian financial system which he seeks to regulate.'
He stated that the financial system is already highly categorised: 'Currently, the Nigerian financial system comprises 24 universal banks, 900 microfinance banks, 98 mortgage banks, 84 finance houses, 600 Class B Bureau de Change, 50 Class A Bureau de Change, five Development Finance Institutions (DFIs) which comprise a Federal Mortgage Bank, the Bank of Industry, the Nigerian Agricultural Cooperative and Rural Development Bank, Nigeria Export and Import Bank and Urban Development Bank .The Nigerian financial system also has five very active discount houses. Note that all these institutions are under the supervision of the CBN. Besides these institutions, there are also about 200 stockbroking firms, investment banks and asset management firms and issuing houses operating in the capital market under the direct supervision of the Securities and Exchange Commission (SEC).
There are also about 50 insurance firms under the supervision of the National Insurance Commission (NAICOM). Also note that it is only when a universal banking licence is needed that it will require N25 billion, otherwise, with N20 million capital, prospective investors can own a microfinance bank located in a local government or with N1 billion capital, a state-focused microfinance bank. For between N100 million and N5 billion capital, investors can get an operating licence to become major players in the financial system. So now, please let us ask the CBN Governor, once more, if the above statistics, which can easily be found on the CBN website, do not show a highly categorised and specialised Nigerian financial system, what does it show? Which gap would the newly licensed banks fill, with the exception of the Islamic banking, which some banks (do not) already offer? What would be more beneficial to the Nigerian economy?
Would it not be better to strengthen the already existing institutions to ensure that they are well-positioned to deliver on their given mandates and serve the economy better? Does the CBN have the capacity to regulate more banks in the system? It is well-known fact that the CBN is already overstretched in regulating the present number of banks and other financial institutions, which has led to the massive failure of several microfinance banks already. So, why making things more complicated? Our major problem with the CBN leadership is that it does not think through policies. This so-called categorization is one of such. Categorization is a recipe to further weaken and cause financial confusion in the Nigerian financial system'.
Why categorisation is good
However, Dr Oladimeji Alo, a former Director-General Financial Institutions Training-Centre(FITC), Lagos disagreed with Shodipo. According to him, some of the banks were forced to adopt the universal bank model against their will. 'The point being made by this new policy is that we don't all have to do the same thing.'
He explains: 'In the past, we had different categories of banks: We had merchant banks, we had commercial banks, and so on. What I think the policy is saying is that we will have a situation where banks can decide to specialise and only those banks that have the capacity would stay as universal banks.
That is my own reading of the situation. We don't need to have the same capital. If my capacity, if my competence can make me operate as merchant bank, I can choose to remain as a merchant bank rather than being forced (to be a universal bank). If you can remember, banks like IBTC was practically forced to become universal bank. Even Intercontinental Bank started out as a merchant bank, and it was doing well as a merchant bank .It was when this regime of universal bank came that they all became universal bank, acquiring other commercial banks, setting out retail outlets and all that. And the point being made by this new policy is that we don't all have to do the same thing. Unfortunately, it takes us five years to come to the same point we made several years ago. When (Professor Chukwuma) Soludo (immediate past CBN governor) was introducing his N25 billion, CIBN and other stakeholders had canvassed that we could have three different categories of banks. It is that point now that Lamido Sanusi is coming back to.'
Offshore banking
On the implications of the new model for offshore banking, Alo stated that it would not hinder any banks from competing with its peers outside the nation's shores: 'I don't see how it can reduce the impact of the Nigerian banks in global participation .It simply means that we are all differently endowed and we should not strive to do what we do not have the capacity to do properly. That is all what (the policy) is saying. I don't think that it can even stop those banks that have the muscle to operate as universal banks. What it is simply saying is that you can license a bank to operate purely as universal bank; you can also license a bank which will purely be a commercial bank rather than dabbling into commercial banking where they do not have the skills and competence to handle. For instance, part of the problems that we had recently is banks going into margin trading in the capital market. Many of them did not even understand the system.
And so that was why many of them ran into problems. What it is saying is that we will not compel you all now to be universal bank. The regime will allow banks to stay, if they like, purely as commercial bank; purely as merchant banks. And one or few could as well be universal bank just like what we have in insurance. You can choose to be a life insurance company, you could choose to be general insurance company that does general business, you can as well be a composite company. It is not even new. That is what we had before.'
Curbing fraud
Considering the fact that majority of the deposed bank CEOs are standing trial for alleged frauds, can the new arrangement check fraudulent practices among the bankers? Alo did not think so. According to him, 'there will always be fraud wherever you deal with money and records.' He explained that the most important thing is the measure put in place to tackle such criminal activity.
His words: 'It is not meant to stop fraud at all. Fraud will always be in banking. Because of the nature of banking, all over the world, there will always be fraud. What is important is that the banks should put in place systems to detect, to prevent and manage the aftermath of fraud. This regime is not about fraud. It is about governance; it is about risk management. There will always be fraud wherever you deal with money and records.
But the question is (this): how do you prevent it? How do you detect it? How do you ensure that you protect your assets from further attacks? So it is not about fraud at all in my view.'
Also has a soul mate in Mr Kayode Fahm, a former financial analyst with Afrinvest (WA) Ltd. According to him, bank categorisation ' will not necessarily check fraud but it will segregate and isolate the business risks entered into by financial institutions, including banks, which makes for better transparency and therefore easier regulation for the Central Bank.'
Growing economy
On its impact on the economy in the light of the much-publicised Vision 20: 20 20 in which the financial system is expected to be the driver and catalyst that will lead to full diversification of the economy, experts, however, expressed divergent views.
For Alo, 'the classification in itself is not something that can contribute directly to the growth of the economy. It is the banks themselves that will contribute to the growth of the economy. What classification does is to bring some order into business in the banks and further strengthening risk management in the banks. That means that people can specialize and can do those things that they are well trained to do and that they can manage adequately. But banking itself, as it were, the classification would enhance the contribution of the banks to the economy.'
But Fahm does not believe that. According to him, 'the requirement for a license for every line of banking business will undermine the synergy and scale necessary for a developing industry and economy. It will also require more micromanagement, capacity and capital all of which are still wanting in the industry.'