2015 Synod:Bishop Mark unveils mission to revamp Methodism in Owerri
…Empowers members and non-members with cash, equipment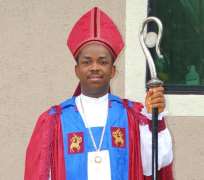 Ahead of the 31stSynod of the Methodist Church Nigeria in the Diocese of Owerri, the Diocesan Bishop, Rt. Rev. Dennis Mark has revealed that the synod will no longer be business as usual, adding that beside the decision making, the church has taken a new turn to give the event a new face.
The Synod which will be hosted by Wesley Circuit at Wesley Methodist Church, No. 9 Arugo Street Ikenegbu Layout Owerri, Imo State according to Bishop Mark will see the implementation of the diocesan four-points agenda which according to the him coincides with the four-point agenda of the prelate His Eminence Dr. S. C. K Uche.
"We are working on developing the church spiritually, financially, infrastructually and socially. On the social side, come Saturday, we will be empowering Methodist and non-Methodist with Motorcycles, Sewing Machines, hair dryers, oven for baking, bags of rice and cash grants to widows especially, to enable them start up something that can help them sustain their families" Bishop Mark said.
He also revealed that on the infrastructural side, the diocese will be looking at completing the Bishop's Court which is about 70% done.
Rt. Rev Dennis Mark cited the diocesan quarterly Night Vigils, church planting and other ongoing programmes in the church as parts of spiritual revival in the church calling on the synod delegates to attend the annual event with a brand new mindset.
"Our aim is to take the church to another level where our members will come to see and believe that they are in a living Church. Aside preaching undiluted word of God, we also want to touch lives so as to make people believe that the power of God is not just in words but in those actions we are taking which will change their lives spiritually and financially", he added.
Former Independent Electoral Commission [INEC], Chairman, Prof Maurice Iwu will be giving a keynote address on Saturday, March 20, 2015 during the plenary session of the event while the wife of the Methodist Prelate and former bishop of the diocese Nneoma Florence Uche alongside other distinguished guests are expected to grace the occasion.