Most Nigerian artistes are ingrates, says, Ade Otolowo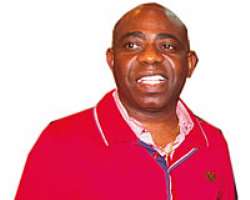 Ade Otolowo pioneered the promotion of Nigerian entertainment in the United Kindgom about 30 years ago. With his 100 % Entertainment company, he has given shape to the career of many Nigerian artistes. He speaks with David Ajiboye and Ayo Idowu about his experience, regrets and happy moments.
Ade Otolowo
Can you tell us about your background?
My name is Ade Otolowo, I hail from Iwo, Osun State. I had my primary education in Iwo and my secondary education in Lagos. I later gained admission into the University of Ife, when at the same time, I had another admission into a university in London, then I decided to go to London, where I have been till date, in the early 80s.
How did you find yourself in the artiste promotion business?
When I was in Nigeria, the likes of Yusuff Olatunji and the late Pa Ogunde used to visit us then, because my father was a great philanthropist in his days. I used to see these people, and I was falling in love with their music and their performances, even with the interest of promoting them. Then, I started with writing stories to television stations, publications and a couple of producers. In 1981, I staged Baba Suwe and one of the Ghanaian artistes in one of the notable hotels in Lagos. Just after this, I left for London, where I kept on writing stories for a daily publication. By dint of this, people started knowing me. In 1983, I sponsored Ade Love to London, for some performances and I took him back in 1986. Then, there was no entertainment in the Western world, I started it. In 1990, I took Baba Sala to London, showing his stage play, Obe Gbona and the likes. I have promoted different artistes outside Nigeria as well.
When you started the promotion business in the UK, was there anybody contesting with you?
Well, there was no challenge then, I started in the early 80s like I told you, though there was someone, the late Tunji Olumegbon, we eventually became good friends.
You have promoted more Nigerian artistes, with all these, will you say you are fulfilled in your line of business?
Well, I will say it is all about interest. I have a number of other businesses I am doing. It is not as if I get huge proceeds like people think, but my joy is the respects, given to my artistes and promoting the music industry.
Are you more into promoting musicians than movie makers?
Yes, though, I started with Ade Love, I have been more into music. I studied Cinematography for my master's degree in 1986, but since then, I have never really made people know what I can do in movie. I have to tell you, I'm coming back into that fully.
Do you have a record of how many Nigerian artistes you have promoted?
Yes, though, I can't give you the exact number right now, I will tell you that they are more than 20. If an artiste, has been known in Nigeria, then, he can pass through my channel
Have you been promoting hip-hop artistes too?
I have never been so much into the hip-hop scene, though I had a contract with Sunny Nneji and I almost signed Daddy Showkey then. Sincerely, I never believed hip-hop could be what it is now. Before the end of this year, I will be promoting about four hip-hop artistes. I think I have done enough of the Yoruba. I only did it because people used to call it local music, and I wanted to make it international, which I did. In 2002, I was very busy promotiing the Congolese music which I made more money from, compared to the Nigerian music. People accepted the congolese music in the Western world, compared to our own music.
What have been your challenges in the business so far?
The only challenge is at the immigration. Initially, they respected us, but at a point they noticed that not everyone that goes in actually comes back. Then, they made things very difficult for us. On the other part most of the Nigerian artistes we are working hard to promote are ingrates, because they will never believe you are helping them.
Was there anytime you wanted to quit the business?
You are right, but I have to tell you, when you are in love with something, you will not mind the odds; you will just keep going. Indeed, there were different times, especially when I was being played by my artistes, but I never stopped at anytime.
Do you have other things you do, apart from the promotion business?
Yes, I have about ten channels of businesses, in the UK and even in Nigeria. Indeed, I am a businessman.
Do you prefer staying in the UK to Nigeria?
Truly speaking, I prefer Nigeria. I love my country, as a matter of fact, I make use of my Nigerian passport more, I am still coming home finally I have all my children in London and I want to find a way of bringing them home, making them settle here. Though, it will not be easy, but I am working on it.
What is coming out from you in the shortest time?
I will leave that to God. Though, I have a few programmes, out of which one of them is giving awards to those who suffered for the industry long ago, without recognition, but I will leave this to God to say.
People call you Baba Omo, how did you come about this?
Then, I was always with my children anywhere I went, it was so much of me then, that a friend just called me that name Baba Omo. Aside that, in the 80s, I set up a class, where I was teaching Nigerian children Yoruba language and culture. Then it was not just my children, but any Nigerian child. That was where Baba Omo came from.
Piracy is the major enemy of entertainment, do you have any means of eradicating piracy?
Well, there are three ways but I am keeping them to myself right now. As a matter of fact, only the government can help us for now.
What do you have to say to the people?
Just stay focused and try to achieve the best in anything you do
Written by David Ajiboye
Story by nollywoodgists.com