Adamawa residents celebrate as troops sack Boko Haram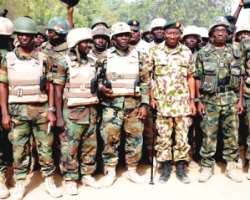 Residents of Gulak town, the headquarters of Madagali Local Government Area of Adamawa State, burst into wild celebration in Yola on Friday after they were informed that their homeland had been freed from the control of Boko Haram, which captured the town last year.
The residents had fled to Yola, the state capital, after the insurgents captured the town.
Some of the indigenes of Gulak, who had sought refuge in Yola, were seen at various drinking joints, dancing in celebration of the freedom of their homelands from the captivity of the dreaded sect.
Some of them, who spoke to our correspondent, could not but expressed gratitude to President Goodluck Jonathan for boosting the morale of the troops during his unscheduled visit to the state on Thursday.
Musa Aliyu, one of the displaced residents of Gulak, told our correspondent that he heard of the news of the liberation of Gulak on BBC Hausa Service.
He added that some of the residents of the communities, who still lived on mountaintops, also called the refugees in Yola to tell them of the sacking of Boko Haram from Gulak and its environs.
Aliyu, who spoke at one of the popular drinking joints in Yola, said, 'Because of the good news, our people are jubilating and have already started planning returning to our ancestral homes and begin normal lives again.'