Synagogue: Building Was Adequately Supervised, Says Structural Engineer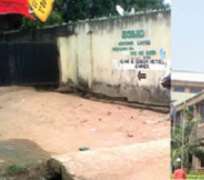 The Structural Engineer that supervised the construction of the collapsed guest house belonging to The Synagogue, Church of All Nations, Engineer Oladele Ogundeji, has told the coroner that he supervised the construction of the building professionally and in accordance with universal best practice before it surprisingly collapsed on September 12, 2014.
The Yugoslavia-trained building engineer submitted that it was baffling for a building which met all standard requirements to collapse in one swoop. According to him, there is a strong indication that the collapse was controlled. During cross-examination by counsel to the Lagos State Government, Akingbolahan Adeniran, Engineer Ogundeji maintained that the way the building collapsed without tilting to any angle suggested a clear case of controlled demolition.
The witness who exuded so much erudition while testifying with the aid of a marker and board impressed the presiding magistrate, Oyetade Komolafe who observed that the witness must be a lecturer in one of the Nigerian higher institutions of learning.
Commenting on the collapse of the building, Engineer Ogundeji observed in his written deposition submitted to the coroner: "I heard about the collapse of The SCOAN multipurpose hostel on 12th September, 2014. I came to the site on 13th of September, 2014. On getting to the site, the rescue operation was going on. I was shown the CCTV footage of how the building collapsed by the CSO (Chief Security Officer) in which I noticed that the whole structure came down within 4 seconds. From my professional training and experience, no structural failure can result in a building collapsing within 4 seconds".
Speaking further, he told the court that "On exposure of the foundation base (after the collapse), no cracks, no stress or any form of structural failure was noticed in the foundation. The foundation has 28 columns and by all means it's impossible for the structure to fall in one swoop if it's due to structural failure. Aside that, it didn't tilt towards any side".
Meanwhile Town Planner Bisi Adedire, while testifying, told the court that even though the collapse building was yet to get building approval, he was aware that the church had already commenced the process of securing approval before the building unfortunately collapsed. He submitted that it was not a criminal offense for construction to go on while the necessary documents were being processed.
However, Chief Magistrate Oyetade Komolafe adjourned proceedings to Tuesday 3rd March, 2 2015 when more witnesses will testify. According to the magistrate, he hopes to complete the inquest within the month of March to enable the court pass its verdict.
Nosa Osazuwa was present during court proceedings.