Troops to recover more towns from Boko Haram soon – Jonathan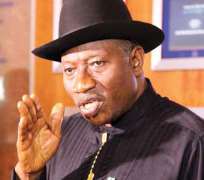 President Goodluck Jonathan on Friday said he was confident that Nigerian troops will maintain the momentum they have built up in ongoing operations against Boko Haram sect in the North Eastern part of the country.
He expressed the optimism that the military would soon recover more occupied territory from the terrorist group.
Jonathan made the commitment while granting audience to the outgoing French Ambassador to Nigeria, Mr. Jacques Champagne De Labriolle, inside the Presidential Villa, Abuja shortly before he embarked on a two-day visit to Delta State.
According to a statement by his Special Adviser on Media and Publicity, Dr. Reuben Abati, the President said the officers and men of the Nigerian Army he met on the frontline in Borno and Adamawa states on Thursday were in high spirits, well prepared and determined to successfully complete their operations against Boko Haram.
'We have already recovered much territory and very soon our troops will clear the terrorists out of other areas not presently under our control,'' the President reportedly assured the French Ambassador.
Welcoming a congratulatory message from President Francois Hollande to Nigeria for recent successes of its armed forces against Boko Haram, Jonathan restated Nigeria's appreciation of France's support for Nigeria and its neighbours in the fight against terrorism.
He commended Hollande for organising the Paris Summit of Heads of State of Nigeria, Benin Republic, Cameroon, Niger and Chad in May 2014 to foster greater regional cooperation against terrorism and insurgency.
The President pledged that beyond the ongoing military campaign in the North East, Nigeria will continue to implement all agreements reached at the summit to ensure lasting peace and security within its borders and in neighbouring countries.
Jonathan also seized the opportunity of the audience with the envoy to reassure the international community of his commitment to free, fair and credible polls in the country next month.
The President wished the outgoing ambassador well in his future endeavours and urged him to always be a 'good ambassador of Nigeria''.
In his remarks, Labriolle said France was 'confident in the future of Nigeria and its ability to continue playing a huge role in Africa and world affairs.'
The ambassador also expressed delight at improved trade and economic ties between Nigeria and France in the last three years, noting that over 250 French companies are currently operating in Nigeria. – Punch.