Capture Shekau alive, military orders soldiers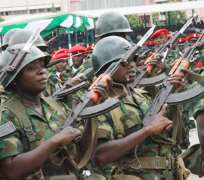 As part of the ongoing onslaught against Boko Haram in the North-East, the military has issued an order for the capture of anybody who bears the name, Imam Abuba kar Shekau.
About two years ago, the Joint Task Force (JTF) in the North East had declared that Shekau, the Boko Haram leader, had died from injuries sustained in a gun battle. However, Boko Haram had released a video, where Shekau denied being dead. Also, the militant group has released several video clips, where Shekau made statements on insurgents' activities.
PRNigeria quoted military sources as saying that following recent suc cesses recorded in the war against Boko Haram, Nigerian troops have been instructed to capture Shekau, who is believed to be looking for ways to escape. It was gathered that soldiers were instructed to capture Shekau alive at all costs, so that he would face justice.
The sources revealed that the mili tary had killed two people claiming to be Shekau, after which another person looking like him would surface, claiming to be the Boko Haram leader. The capture of Shekau, it was learnt, would end the drama of impersonation.
In a related development, the mili tary has received more sophisticated arms to confront Boko Haram. Also, senior military officers, especially of the rank of General, are now leading the war against insurgents. These, it was gathered, have boosted troops' morale.
It was gathered that the military has also changed strategies, which re sulted in the recent successes against insurgents, with the support of troops from Cameroon, Chad and Niger Republics.
Last week, massive onslaught against Boko Haram led to the recap ture of Monguno, Marte, Gamboru Ngala and Dikwa, among other big towns and surrounding communities in Borno State earlier under the control of insurgents.
On the last ditch operation to rout Boko Haram, a military source said: 'With the acquisition of new equipment from various sources and the specialised training of the troops on guerrilla warfare, the military indirectly called the bluff of some deceptive Western countries who are now trying to save face by claiming to work with our neighbours.
'The effective collaboration and mutual relationship with our neigh bours is paying off, as they now re alise that inactions can pose disasters to their countries too.'
Meanwhile, basking in the eupho ria of their recapture of Baga, the military has recovered large cache of arms, as soldiers search houses in the community. The military on Saturday routed Boko Haram in Baga and recaptured the community, where insurgents held sway for many months.
Revealing the result of the cordon and search in Baga, Major General Chris Olukolade, Director, Defence Information, in a statement released yesterday, said soldiers continued to discover 'more arms of various background and shapes abandoned in some houses and the surroundings by fleeing terrorists.'
According to him, 'heaps of weapons, most of which were strange looking or destroyed are still be ing gathered. Many abandoned or destroyed motorcycles have also been discovered.'
On the casualty suffered, he stated that a soldier was stabbed while another was shot 'during a close quarter battle, which ensued as troops involved in cordon and search caught up with some of the fleeing terrorists yesterday evening.'
He revealed that a number of indi viduals who claimed to be residents were being interrogated to ascertain their identities and motives.
On the reaction of Baga residents, he stated: 'The group consisting mostly women continued to hail and cheer the troops, as they conduct thorough search in the area. Wanting to be sure the group was not working for the terrorists despite the excite ment, they had to be placed under watch.' General Olukolade said the cordon, search and patrol of Baga would continue, 'while the offensive on terrorists is progressing in other areas of the theater of the counter-terrorist campaign.' Agency report