What has President Jonathan to lose?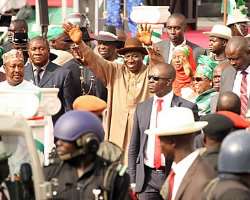 On saturday 14th February 2015(the day originally fixed for this years presidential election), I spent sometime to ponder on what President Goodluck Jonathan really stands to lose if his reelection bid is unsuccessful and till now(as I write this) nothing has come to my mind. My inability to find a single thing further strengthened my resolve to support my president.
This is a man who from being a lecturer has risen through the ranks to become president within a period of 16 years, a position many have been struggling to attain since 2003. Perhaps if Jonathan is not reelected(God forbid), the people of Nigeria who have seen and understand what structures Jonathan's administration has put in place to take this nation to greater heights will have much more to lose than him. For the rest of his life(and even in death) Goodluck Jonathan will forever be recognized as a former president. He will sit at the council of states meeting(I know he won't be as selfish as others to attend only those meetings that will benefit him only). He will get his pension and other benefits. He will be protected by men of Nigerias security agencies. The name Jonathan alone will 'unlock' doors of opportunities not only for members of his immediate family but also extended and maybe any one else who bears the name(as we have seen in time past).
On the other hand Nigerians who have witnessed a departure from the old order will be left to face the same cabal consisting of men who in the far/recent past plunged this nation into anarchy and are the architects of Nigerias woes.
•Job seeking graduates will be left to face uncertainty with a man who within 1983-1985 could not create jobs for a population of graduates by far lesser than what we have now yet is promising heaven and earth today.
•Millions of youths who are eagerly awaiting an opportunity to benefit from the YouWin scheme will be disappointed. There is no way a man who cannot point to one single policy of his(while he ruled) which encouraged the growth of small/medium scale and even big businesses can feel comfortable encouraging the youths to be independent. Most of the youths benefiting from the YouWin scheme today were babies when General Buhari ruled, having been told they were the leaders of tomorrow then, it is obvious that to the General their tomorrow isn't here yet; how then can this same man encourage 'babies' to be financial independent?
•The Almajiri kids who from generation to generation have suffered deprivation of even the very basic things that makes life comfortable by the elites who are seeking a return to power - irrespective of the fact that their region of the country have held on to power for the longest period since independence, will be utterly disappointed if Jonathan doesn't get reelected. Through President Jonathan, these kids have seen the light, going back to darkness is something I do not wish for them.
•The farmers who have thus far benefited from the current agricultural revolution are in a better position to know how it was prior to Goodluck's coming and what is obtained now. It is unthinkable that any farmer who has benefited from the hitch free fertilizer acquisition process and the e-wallet system will seek a return to the old order. How about those benefiting from the various dams being constructed nationwide, these ones I am sure prefer continuity to a dubious change being canvassed by "yesterdays men".
•Do we jettison the growth in our economy with the billions of dollars being invested by local and foreign investors, which have been well managed by President Jonathan to line behind a man who could not manage a less complex economy three decades ago and who has a penchant for canceling projects embarked on by his predecessors?
•The millions who ply the numerous roads constructed or under construction all across Nigeria will have more to lose. Would it be a display of wisdom to bring back a person who embarked on selective distribution of amenities both as Head of State and PTF chairman?
•How about the thousand who use the resurrected railways as a means of transportation for both business and pleasure all across Nigeria? Non of them in their right senses will be happy to see the railway return to the state it was in 1985(with cockroaches,snakes and rats dwelling in the coaches).
•Millions currently benefiting from the power sector reforms as well as 'operation light up Nigeria' dread a return to the old order when only a few communities had access to power.
From the above and many more reasons, I believe without an iota of doubt that President Jonathan remains the best option for Nigeria at this time and has proven to be the best president Nigeria has ever had. With regard to development we have never had it this good. It is my sincere desire that Nigerians will choose continuity and allow this march to prosperity to be sustained rather than a change spearheaded by a few greedy persons who have come to imbibe the false believe that calling the shot at all times is their birthright, and to decide who gets what and when, is their exclusive preserve.
I do not belong to the group of people who say "let Gods will be done" as regards this election, because to me this is more than an election. It is an opportunity for Nigerians to take back their nation from the grasp of a few persons whose aim is to perpetually keep the majority in captivity. I belong to the group of persons who know they can "decree a thing, and it shall be established unto thee[them]" and have the confidence that "if two[in this case we are much more than two] of you agree on earth about anything they ask, it will be done for them...".
OLUSEGUN OBASANJO: This is a man who has benefited from this country immensely. Of the 55 years of Nigerias independence, he alone has been in office for 11 years and shamelessly sought an extension of his tenure after the constitutional 8 years. Obasanjo represents that terrible Nigerian nightmare that has just refused to go away. A president who for 8 years had a chance to write his name in gold but instead choose to waste all of those years without any landmark achievement to his name now goes around like a "roaring lion seeking whom to devour".
A man who failed as a father, as a president and continuously fails as an 'elder statesman' with utterances that are embarrassing to any right thinking person. Isn't it laughable that a man who sought an infamous 3rd term now compares another to Laurent Gbabgo for no just cause. Obasanjo is the man who has conducted the worst election in Nigerias history. Under his watch a sitting governor was kidnapped and nothing happened. Obasanjo presided over the affairs of this nation at a period where political killings seemed as the accepted norm, it is interesting to note that not even one political murder under him was resolved till he left office in shame. A sitting president who had several corruption scandals pointing directly to him and his then Vice. A president who with impunity revoked oil,banking and aviation licenses of political enemies all in one day for not doing his biding; this is the same man lecturing President Jonathan and Nigerians by extension on the rule of law and morality - how pathetic.
It is no surprise that certain people take this man serious, ours is a tale of a people who don't learn from history and this wickedly manipulative man who derives joy in permanently controlling people feeds on the short or total loss of memories of those who still consider such a figure their hero.
Evil can never triumph over good forever. Obasanjo and his likes will be overcomed permanently and consigned to the dustbin of history while Nigeria continues the forward movement it is witnessing under President Goodluck Jonathan. We triumph still, irrespective of how many the enemies of progress are.
Enenim Ubon is on twitter @enenimubon.

Disclaimer:

"The views/contents expressed in this article are the sole responsibility of the author(s) and do not necessarily reflect those of The Nigerian Voice. The Nigerian Voice will not be responsible or liable for any inaccurate or incorrect statements contained in this article."
Articles by Enenim Ubon