Archbishop Rochas' Sacrilege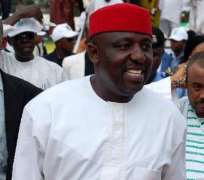 The sacred scripture says that at the end-time, many unusual things shall be happening- Revolutions, antichristism, sacrilege, etc. The unusual by nature means among other things: Odd, curious, strange, bizarre, atypical, abnormal, remarkable, outlandish, extraordinary, non-orthodox things, etc. While these stand as eccentric, their missions and effects could have either positive or negative impacts in the society, which in turn correspond with the intention of the executors of the unusual.
It is no surprise that in Imo State today, we witness these. The Imo youths are en masse revolting against their parents and the society that call them the future of tomorrow that never comes, while the today apex societal leader in the State- Owelle Rochas Anayo Okorocha in his own version of the biblical prophesies of the end-time signs, has taken up to sacrileges.
It is appalling too that the greatest sacrileges come from the apex societal leaders who use the grace, aura and leverages of their offices to insult and assault the sacred. Sometime past, it was physical assaults on ordained clergies; today the sacrilege has passed from beating Reverend Fathers to the mudslinging the Archbishop.
One wonders if Governor Rochas Okorocha has not been possessed by same end-time spirit that brings the negative-unusual to the society in order to draw many men to the devil. The Israelites on their transit from Egypt were possessed by same spirit, and made themselves a golden calf. Nebuchadnezzar in Babylon deified himself and became adoration living figure. Emperor Nero of the first Century AD deified himself and even pontificated like Governor Okorocha is doing in Imo State today. It is worthy to note that one may be living with the grace of God, but will not know when the Holy Spirit has departed from him like Sampson, and thus possessed by an erring spirit.
To pontificate is a religious act of a consecrated High Priest, and for a laic to assume such is profaning the sacred. It is obvious that Governor Rochas Okorocha has lost what the great German theologian Rudolf Otto called the sense of the sacred, as he intentionally has decided to rubbish Archbishop Obinna because of his desperate urge to rule Imo State again and at all cost.
It has been reported that in recent meetings with various groups and his personal aides for some time now, that Governor Okorocha has fallen out with His Grace (Archbishop) Obinna, the Governor had turned to a Pastor as he lays his hands on their foreheads (after castigating his assailers, who reliable source from his caucus say paramount among which are the apex Imo leaders are in opposition parties and His Grace). It was gathered that while laying his hands on their foreheads, he declares "you are blessed in Jesus name" to one, and to the other "you will never be poor again in life in Jesus name, Amen" while to the rest (his pontificate congregation) he declares "receive the Father's good blessings from above", etc.
In a layman's perspective, there is nothing wrong in the "Father" blessing his sons. But the concept of imposition of hands is a pure biblical religious function of the High Priest. The function of the laying of hands according to St Paul (1Timothy 4:14), implies the rite of transmission of grace or charism, and ordinary sacerdotal blessing (Heb 6:2). It also means healing (Mark 6:5,7; Luke 4:40, Matthew 19:15ff), and to communicate to the baptised the fullness of the Holy Spirit, (Acts 1:5).
It is to this effect that the Catechism of the Catholic Church (CCC, 1288) in accordance with Hebrews 6:2 declares that "the imposition of hands is rightly recognised by the Catholic tradition as the origin of the sacrament of Confirmation, which in a certain way perpetuates the grace of Pentecost in the Church." This religious gesture- Imposition of hands, is a sacred sign that accompanies the administration of a sacrament. And as such, is seen at Confirmation of Christians, priestly ordination and anointing of the sick, and in this modern era of Pentecostalism, exorcism is inclusive. This makes the act, an authentic sign of the authorisation of the apostle's status of the impacter- The High Priest, Governor Rochas Okorocha.
As a result of the high demand of this function, 1Timothy 3:1-3 and Titus 1:9 make obvious the qualities of a Bishop, and elsewhere in 1Timothy 5:22, St Paul warns the new Pontiff Rochas Okorocha "not to be hasty in laying on of hands, nor participate in another man's sin." One wonders at these if Rochas Okorocha is a Christian or Muslim as news about his Islamic religious profession is rampart now that he is truly an Alhaji, a Sheik or an Imam at Douglas House.
This sure religious priesthood makes his profaning of the Christian priestly functions a theatrical role for him before his aides and invited loyalists. If not, he would only make a verbal blessing (as some hungry pastors these days make to their members, inciting their belief that they serve not the poor God but that of riches) without laying hands on their foreheads, and would be cautioned in impacting blessings from the "Father above."
To castigate and attack the Archbishop, and term him an assailant, is tantamount to sacrilege too, as it contravenes the biblical injunction: "Touch not my anointed and do my prophet no harm." The great, question here is, has Governor Rochas Okorocha truly become as spiritual leader? If he has, then he is right to lay hands on foreheads and impact sacraments. If he is not, then, it is an intentional attack on the personality of the Archbishop and all the clergy in general, from the hierarchical orthodox and Pentecostal dominations.
To be a spiritual leader is not an impossibility for Rochas. He can be it by being an Imam (or Sheik), a private Juju chief priest, or an occult grandmaster but never a priest, prophet or bishop in Christendom. Sometime past, it was rumoured that Governor Okorocha is a member of the Ogboni fraternity, which he debunked as false, and one never knows where to follow him in his acclaimed spiritual leadership that gives him the onus to lay hands on foreheads while castigating a Bishop and making ritual sayings. If he is an Ogboni grandmaster, a Sheik (or Imam), etc., fine; his acts are religiously rightful and never sacrilegious. If not, he is obviously out to rubbish His Grace, Archbishop Obinna because of politics.
Yesterday, in a church thanksgiving outing of a friend I attended in the Immaculate Heart of Mary's Parish Orsu-Obodo in Oguta LGA, I heard the Parish Priest, Rev Fr Ernest Muforo during the sermon say that two APC stalwarts in the Oru ward of Oguta LGA: Hon Emeka Nzeribe and Hon Godwin Amugo (former Majority Leader of Oguta LGA Legislative Council) went to admonish Archbishop Obinna to warn him the Rev Father and himself His Grace to be careful with how he says things about Governor Okorocha, or…! The church was on fire that threats again have returned to His Grace and his Rev Fathers because of governorship election. This time perhaps it may be assassination than beating. The entire ward and environs are on fire, just as the entire priests of Owerri Ecclesiastical Province (which includes- Ahiara, Orlu, Okigwe, Aba, Umuahia and Owerri) are aggrieved that while the Imo State Governors go about making eternal-life savings for their generations unborn, they the Poor Christ of Bomba suffer pre-electoral violence and insults.
From all indications, Gov Okorocha is not a Christian. No wonder he proposes building a gigantic golden-dome mosque adjacent the Assumpta Cathedral where the Archbishop lives and the whole Imo Christians have as a Christian edifice. No wonder he pays inducements to young Imolite converts to Islam, which records we have though he debunks today.
No wonder his men are on regular-sent missions to warn and threaten the Archbishop and his priests who are not politicians or comedian Uche Ogbuagu who sang "Ka Opuo." This is a calculated assault and sacrilege, a great food for thought for all Christian leaders in Imo State. Our people say that when the goat finishes eating the yams in the farm of the farmer at the edge, it enters the central farmer's portion. Today, is to His Grace and his priests from the Catholic Church, tomorrow will be from the Anglican Communion, then the Pentecostal brethren, etc. till Muslims take over Imo State.
Of a truth, Rochas should go and rest than calling the wrath of God upon him. I demand that investigations on these claims and reports be made to certify the need to reform Imo State now. Like Ola Rotimi wrote, "Our Husband [the Governor] Has Gone Mad Again." A stitch in time they say saves nine.
BY Prof. Protus Nathan Uzorma
Disclaimer:

"The views/contents expressed in this article are the sole responsibility of

Nathan Protus Uzorma

and do not necessarily reflect those of The Nigerian Voice. The Nigerian Voice will not be responsible or liable for any inaccurate or incorrect statements contained in this article."
Articles by Nathan Protus Uzorma