FG to reconstruct Chibok-raided school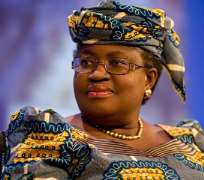 The Minister of Finance, Dr Ngozi Okonjo-Iweala, on Thursday said the Federal Government would soon begin the reconstruction of Government Secondary School Chibok.
The finance minister stated this on Thursday when she led a government delegation to visit  Internally Displaced Persons  from Chibok,  settled in Buzunkure in the Kuje area council of the Federal Capital Territory.
The Borno State school came into limelight when over 213 students were abducted by Boko Haram on April 14, 2014. The schoolgirls have yet to be rescued.
While stating that the purpose of the visit was to support and encourage them, she noted that already, President Goodluck Jonathan had approved the reconstruction of the school.
This, according to her, would be achieved under the Safe School Initiative.
She said, 'The major focus of the Federal Government is to ensure that Boko Haram is removed so that people can move back to their communities.
'Displacement is not a permanent condition; the idea is for you people to be able to go back and not to build you camps in different places.
'The second thing is about the school, Government Secondary School, Chibok, about two days ago, we had a conversation for a long time; we have been waiting for the right circumstances.
'That school, the president is determined and he promised publicly that he will have the school rebuilt. The plans are ready; they are working with engineers.
'In no far distance, we will be able to start work in that school; he has already approved that.'
Okonjo-Iweala added that 44 students among the IDPs would be added to about 2,400 other students that would be transferred  from schools in the North-Eastern states to various unity schools  in other parts of the country.
This, she said, was being done with donors who are the British, Americans, Norwegians, World Bank, African Development Bank, among others under the safe school initiative.
She said, 'We will add the names to the list but we will come back to you to do it in orderly fashion to make sure that we are reflecting what the parents and children want.
'If they want to be placed in schools close to this place, we will do it. If they want to be in secondary schools elsewhere, we will do that. It is a voluntary thing and we will try to meet up with their demands.'