Controversy as Army refutes alleged surveillance on Tinubu's residence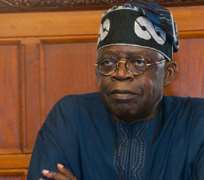 A fresh controversy may be brewing over alleged military surveillance in the Ikoyi, Lagos residence of the National Leader of the All Progressives Congress (APC), Bola Ahmed Tinubu. Lagos State Governor Babatunde Fashola yesterday decried the 'intimidation' by a government that lays claims to democratic credentials.
However, the Army yesterday refuted the allegation.
Fashola, who spoke at the APC gubernatorial campaign rally at Iyana-Ejigbo in Oshodi-Isolo council area, said that the President Goodluck Jonathan-led Federal Government had resorted to intimidation of opposition and frustration of electoral organisation in a bid to hang-on to power.
According to him: 'The PDP-led government is a government that lies with everything.
'They have removed security from Independent National Electoral Commission (INEC). Now they are deploying soldiers to Tinubu's house. We will not be intimidated. Our votes will speak for us,' Fashola said.
The governor added that when President Jonathan was 'begging' for our votes in 2011 he did not use soldiers. 'He was begging us. He was saying he had no shoes. After we helped him, what has he been doing is to inflict pains on us.'
Also, Tinubu said that he would not be intimidated by this show of strength, intimidation and possible harassment.
Tinubu in a statement said: 'I remain resolute in my advocacy and support for the rule of law. Jonathan's government has through the service chiefs staged a coup against Nigerians and the Constitution and now wants to silence his critics.
'I will not be muzzled through the barrel of the gun. The guns and bullets they should use to defeat Boko Haram are now being turned against the opposition and innocent Nigerians,' he said.
The former governor added that he remained resolute and committed to the path of change in Nigeria and the liberating manifesto of the APC.
The Guardian gathered that Tinubu's Ikoyi residence had been under surveillance by soldiers for three nights.
Although they were not there as of the time of filing this report, it was gathered from residents that the soldiers, about 30, in three patrol vans and an army truck were usually stationed close to the entrance of Tinubu's residence anytime from 10 p.m.
Tinubu's Media Office stated that the soldiers were first noticed on Sunday a few minutes before 11 p.m. in an army truck.
'They stationed about 500 metres away from Tinubu's gate. Later they moved close to his gate as if making efforts to enter. The stern -looking soldiers were around for hours on Sunday and returned on Monday to continue their surveillance.
'Monday night about 10.45 p.m., they returned to the residence in two army vans and were there throughout the night. Some of the soldiers discharged from the van and walked back and forth in front of the house and around the house in what is clearly showcasing effort.
'This morning (yesterday), two vans from the army were stationed on both sides of the house along Bourdillon Road, their missions shrouded in secrecy,' the statement reads.
The soldiers with their trucks and vans are allegedly stationed close to the entrance of the gate to Tinubu's house along Bourdillon Road in Ikoyi.
In his reaction, the APC Publicity Secretary, Lai Mohammed told The Guardian, 'We are not surprised; this is the beginning of the real militarisation of this politics and the use of the military to hound members of the opposition to either surrender or get crushed.
The question that follows is are we in democracy or under military rule?'
However, the Assistant Director of Public Relations, 81 Division of the Nigerian Army, Lagos, Col. Mustapher Anka dismissed the allegation when The Guardian sent him a text message, demanding to know if indeed Tinubu's house had been placed under surveillance as alleged.
Anka called, saying that he was not aware of such situation, and that he would send one of his men to the place.
Few hours thereafter, he called saying, 'It is a lie. No soldier was posted to Tinubu's house. I tell you it is a mere rumour and should not be believed.'- Guardian.