We Have Good Policy Makers But Bad Implementors Says Bishop Umunna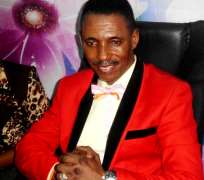 The Presiding Bishop of Bible Life Church Cathedral Worldwide, Bishop Leonard Umunna recently called a press conference at his palatial office where he added a lone voice to the present political leadership and 2015 general elections in Nigeria.
At the press briefing, Bishop Umunna said that 2015 general elections would be peaceful but some desperate political leaders want to get to power at all means. Neither Jonathan nor Buhari is a messiah. I have not gotten my PVCs till date. We have deviated from campaigning on issues than attacking the person of President Goodluck Jonathan. We must live beyond tribal politics and face issues that affect the nation.
He also added that every Nigerian is guilty of his or her certificate. May I asked how many Nigerians have real certificates.Buhari's certificate should not be an issue but what the voters need now is credible leader that would eradicate poverty and corruption in Nigeria. Our educational system is in shamble and nobody has revived it. As a clergy we must give advice to our political leaders that are ready for change. The so-called APC are more corrupt than the PDP.These two political parties are not different. The issue of change and continuity is nothing to go by but Nigerians need a leader with credibility. Nigerian leaders are good in formulating policies not implementing it which is not good for a developing country like ours. The era of insurgency would soon end in Nigeria and nothing more, he said.
Those that joined the press conference with Bishop Leonard Umunna were Pastor Enifeh Lawrence, Leader workers forum, PRO and MD of Umunna Schools, Pastor Angela Ekpene-Umunna and Evang Akuta Francisca, Principal Leonard Umunna College.