Buhari Must Debate To Answer Questions From Nigerians - Adeyeye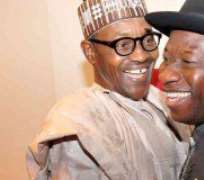 Minister of State for Works, Prince Dayo Adeyeye has insisted that the All Progressives Congress (APC) presidential candidate, Major General Mohammadu Buhari (rtd) must attend the Presidential Election Debate, saying; "Buhari and other presidential aspirants must answer questions from Nigerians that they want to govern."
The minister said "it is obvious that Buhari is empty intellectually and is avoiding the presidential election debate so as not to ridicule himself."
In a statement issued on Sunday and made available to press men in Ado Ekiti, Adeyeye said Nigerians must put pressure on Buhari to attend the debate.
He said; "If Buhari is not comfortable with the Broadcasting Organisation of Nigeria (BON), he should tell Nigerians under which platform he wants his competence and mental alertness to be measured.
"Buhari can even choose which organisation to organise the debate and the venue. He can choose CNN, Aljazeera or BBC.
"All we are demanding is to see Buhari, who has been unable to speak for more than five minutes in any of the APC presidential campaign rallies respond to questions from Nigerians for three hours."
While declaring that Buhari was already showing signs of senility, Adeyeye said; "On Saturday, during the APC campaign rally in Ilorin, Kwara State, Buhari referred to Senator Bukola Saraki as governor of Kwara State.
"The other time in Owerri, Imo State, Buhari referred to his running mate as Osunbade instead of Osinbajo and also referred to Imo State as Ibo State.
"In all the presidential campaign rallies held by the APC, Buhari did not speak for more than one hour and he spoke incoherently.
"Like other presidential aspirants, including President Goodluck Jonathan, Nigerians deserve to assess whoever that is aspiring to govern them and the only way to do that is the election debate.
"Therefore, Buhari must debate so that Nigerians can ask him what he did when he was Head of State, why he cancelled Lagos Metroline Project, why he cancelled free education and free health programmes in the Southwest and what happened to the $2.8bn oil money.
"Most importantly, Nigerians want Buhari to explain the roles he played in the N25bn Afri-Project Consortium (APC) Petroleum Trust Fund (PTF) scam and they are waiting for him to debate."