Governorship Debate In Abia State: An Assessment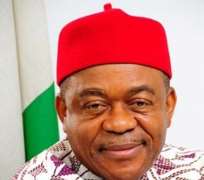 On Friday, January 30, 2014, the Catholic Diocese of Umuahia through its Justice Development and Peace Committee (JDPC ) Organised a debate for the leading Governorship Candidates in Abia State to come and showcase their plans and projects for the people of Abia State.
For many, it was a rare opportunity to Watch all the Candidates at close quarters in comparison with each other.
Present at the debate, which held at the Hall of the Mater Dei Cathedral, Umuahia, was Dr. Okezie Ikpeazu of the PDP, Alex Otti of APGA, Nyerere Anyim of APC and Chikwe Udensi of PPA.
The debate began by 11am with each Candidate taking 15 minutes to talk about his background, his vision for Abia State and his suitability for the task ahead. Then followed a question and answer session first from a panel of Church Council Elders and later from the general audience.
Below is my assessment of the Candidates in alphabetical order.
APC: DR. NYERERE ANYIM
Dr. Anyim from Obingwa LGA in Abia State drew a lot of inferences from Imo, a neighbouring state governed by APC. He promised to improve on Infrastructure and build roads all over Abia as he claimed is done in Imo State while promising free education at all levels. He promised to leverage on the available potentials of Abia State to create a new state.
APGA: ALEX OTTI
He did not disclose his locality and it is still a subject of contention. He harped on his background as a banker where he rose to be MD and his background as an economist and international financial analyst as factors that make him the best candidate for the job at a period of economic downturn. He also made copious references to developments in Anambra state governed by another former banker and APGA member and urged Abians to trust him to leverage on his extensive contacts in the financial world to access the funds needed to build a new Abia. His presentation in summary was: Trust me, I have the magic wand.
PDP: DR. OKEZIE IKPEAZU
From Obingwa LGA, Dr. Ikpeazu recalled his background as an academic and his trajectory in governance beginning with a stint as LG Chairman in 2002 through all his other political engagements. Instructively, of all the Candidates, it was only Dr. Ikpeazu that outlined the 'how' of his plan as against 'what' the others plan to do. For example as to the question of how to develop Aba, Dr. Ikpeazu gave a specific plan which included creating a ring road all around Aba to reduce the thoroughfare intra-city traffic while opening up new layouts to decongest the city centre and ease the strain on public infrastructure. He also outlined a plan to build commercial clusters in areas where Aba has comparative advantage while consciously developing Housing Estates towards Obehie to tilt the expansion of Aba towards Port Harcourt thus taking advantage of the Oil-Rich Rivers State Economy. He was quick to admit that conditions are not optimal in Abia State at the moment but vehemently rejected any attempt to discount the contributions of the current government insisting that there are many developments in the state that will serve as foundations from where he would take off..
PPA: CHIKWE UDENSI
The funniest of the lot, his every contribution drew laughter from the audience. He made so much meat of his 8-year stint as Secretary of ALGON and tied every of his contribution to how his position at ALGON provided him the experience to deal. From Healthcare to Education, Security to Employment Generation and even Women Empowerment, somehow, he had done it at ALGON and he knew how to solve it. He promised to operate from Aba for the first 2 years of his administration if voted in.
One remarkable thing about Chief Udensi's contribution was his penchant for dishing out 'facts' that would not stand close scrutiny. Most of his assertions are very easy to debunk as fallacious and exposes the desire of the Candidate to adopt a sensational approach rather than a factual and serious one.
Again, all the other Candidates tended to pander to populist views on certain controversial subjects without being realistic. On the issue of Security Votes, while the other Candidates said they would have nothing to do with it, Ikpeazu stated emphatically that for a state with 7 states bothering it and a history of violent crime, Security Vote was an essential requirement to purchase vehicles for security agencies and motivate them all to keep crime at bay in the state. He however insisted that he would keep it moderate and tied to security needs. The mark of true leadership is the ability to defend a needful policy of government for its overiding public good even if it is unpopular and Dr. Ikpeazu got my marks for that.
Responsible leadership also comes with responsible promises devoid of unrealistic projections. Some of the programmes proposed by some candidates did not take into account the financial accruals to Abia State and a combined deployment of the Federal Allocation of Akwa Ibom State and the IGR of Lagos State would not actualize them.
In all, everybody present acknowledged that every one of the Candidates was eminently qualified to govern Abia State and they each possessed the requisite intellect to get the job done. Whoever emerges winner has a few things to take away from the plans of the other Candidates and it is instructive to point out that they all promised to work together irrespective of who emerges winner.
On the question of who had taken the most time to understudy the challenges of Abia State and draw up an actionable development template and by extension, who carried the day at the debate, Dr. Ikpeazu stood head and shoulders above his co-contestants
Sam Hart
+2348038537076
Disclaimer:

"The views/contents expressed in this article are the sole responsibility of

Sam Hart

and do not necessarily reflect those of The Nigerian Voice. The Nigerian Voice will not be responsible or liable for any inaccurate or incorrect statements contained in this article."