ATTAHIRU JEGA'S PACT WITH THE APC.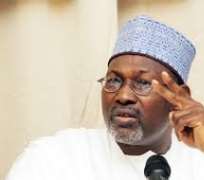 Campaigns have started fully in view of the 2015 elections and each day that passes appeals to me as confirmation that on a level playing field on which everyone is encouraged to register and vote and there are no attempts to alter the outcome of voting with weapons of violence especially in APC controlled states in the North, His Excellency, Goodluck Jonathan will win convincingly. However, it is important I place my countrymen on high alert as there have been extreme pre-election rigging activities orchestrated by the INEC in conjunction with the APC which are currently going on unnoticed in some APC controlled states especially in the North.
This systemic method of rigging is a carefully thought out one and is so sophisticated that it may not be noticed by most voters especially Nigerians in the south and moderate Moslems in the North. Perhaps if Southern INEC Commissioners hadn't sounded the alarm, the APC would have had a field day imposing on Nigerians the kind of leadership they would flatly reject on a good day. This plan is simply aimed at disenfranchising millions of Southerners thereby delivering to the Northern Moslems on a platter of gold the exclusive preserve of voting and electing a president for Nigeria and Nigerians in the forth coming elections.
This note is not against the North or any Northerner but by my estimation, any candidate who would lead Nigeria must be given a chance to do so by all Nigerians and must never be because the Muslim North demands it. On this basis, I'd advise my Northern brethren who still harbor these irrational thoughts to discard them permanently because that's the only way it can be defeated. Nigerians should ordinarily be happy to vote for any candidate of Northern origin in a democratic contest that does not appeal to religion, but with this religious and ethnic demand that the North Must Rule, southern Nigerians must respond with a resounding NO. Those Northerners who cannot wait must be prepared to be met with stiff resistance till they understand that no region can demand power in Nigeria as of right.
Extreme rigging has already taken place courtesy of Prof Attahiru Jega in alliance with the APC. It is a travesty on the APC that calls for change, that as the President is trying to honor his commitment to pure democracy and the one-man-one-vote ideology, they are embarking on multiple levels of rigging. They have been caught cloning voters cards. Several incidences of under aged registration have occurred in the North. Foreigners from Niger, Chad and Sudan have been paid to register and stay back to vote. The traditional rulers, local imams and district heads are coordinating it in diverse forms. Unless they are stopped, Southern and non-Muslim voters as well as moderate Moslems in the North will be disenfranchised. Here are some of rigging initiatives supervised by Prof. Attahiru Jega and his fellow party men alongside my suggestion(s) on what must be done to stop abort them:
1.1 INCREASE IN POLLING BOOTHS:
The attempt by Prof. Attahiru Jega to dramatically increase voting booths in the North whilst reducing or maintaining the booths in the South was the first blatant proof of his romance with the APC for the purpose of carrying out the sophisticated rigging I talked about. That charade of an initiative showed that Prof. Jega has either been compromised by the APC or have been sold the dummy that the NORTH MUST RULE as a means of compensating the region for the death of President Umaru Musa Yar'Adua which the south did not cause.
SOLUTION:
Not applicable. Right thinking Nigerians resisted the move and status quo has been retained.
1.2 GHOST VOTERS:
In the North West and North East regions, massive drives for ineligible person such as underage children and foreigners have occurred and are still occurring. These have has swelled the numbers of eligible voters in the North East alone to a remarkable 18, 616, 499 registered voters and in the sparse NORTH EAST including BORNO and YOBE states a whopping 10, 447, 410 registered voters. These extreme actions are driven by a religious determination that the North must rule. For instance some northern cultural and trade organizations currently deregister members that have not collected their Permanent Voters Card.
SOLUTION:
The President must ensure the postponement of the elections to put in place mechanisms to verify underage voters and foreign nationals in the North before and during elections. People should also be allowed to keep registering and collecting PVCs right up to the week of elections. Churches and organizations in the South should now consider going on their own drive and demanding that their members must get their PVCs or stop attending. As a step further, the database of the National Population Commission when compared to the Independent National Electoral Commission's registered can be relied on to verify the true ages of Nigerians that are suspected to be underage but are discovered to possess PVC's.
1.3 DISTRIBUTION OF PERMANENT VOTERS CARD:
The distribution of PVCs as supervised by Prof. Attahiru Jega is highly lopsided and has been configured to serve the interest of the APC in the North. There are reports which show that what is being experienced is an initiative of Pro. Jega and INEC Commissioners of Northern origin. These eyewitness reports indicate that while Prof. Jega gave instruction that PVCs should be taken to LGAs for individual collection ostensibly to prevent the cards from getting into wrong hands as done in the South, special agents were recruited in the North and directed to register the cards in the LGA and then deliver to village heads and imams for door to door delivery as a result of which cards are being collected by proxy. This distribution pattern has made it impossible for non Moslems to collect their cards in the far North.
As at 24th January 2014, real time PVC collection statistics are thus (please note that these numbers change on a daily basis and that these numbers are indicatory rather than precise):
North West:
Registered: 18, 616, 499.
Distributed: 12, 003, 964.
Potentially Disenfranchised: 6, 612, 535.
North East:
Registered 10, 447, 410.
PVCs Distributed: 7, 456, 848 (excluding Borno: 4, 886, 499).
Potentially Disenfranchised: 2, 990, 562.
North Central:
Registered: 10, 592, 958.
PVCs Distributed: 5, 539, 982.
Potentially Disenfranchised 5, 052, 976.
South West:
Registered: 13, 188, 854.
PVCs Distributed: 6, 419, 003.
Potentially Disenfranchised: 6, 769,851.
South-South:
Registered: 7, 178, 185.
PVCs Distributed: 3, 944, 242.
Potentially Disenfranchised: 3, 233, 943.
South East:
Registered: 9,486,811.
PVCs Distributed: 5,788,053.
Potentially Disenfranchised: 3,698,758.
It is glaring from a close look at the analysis above that there have been huge incidences of inflated population of voters in APC controlled zones of the North West, North East and South West. As I write, the North West alone has over two times the votes of the South East and more delivered PVCs than the South East and South South combined. Even though this does not imply that all those votes are for APC, it is worrying that the South East votes are almost entirely Christian but the distribution of PVC's in that region and the South South does not reflect the total voting strength of the regions.