King Oogbodo vacations in Amsterdam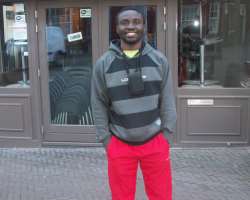 Swagga 4 Jesus singer, King Oogbodo, who is currently on vacation in Amsterdam, Netherlands, has explained why he's on vacation at the beginning of the year.
According to him, 2015 is going to be a very big year for him because he will be very busy and have no time for vacation once he releases his sophomore album, Colossus, this year.
"I can tell you confidently that 2015 is the year King Oogbodo will take over the music industry. I've been working on my sophomore album, Colossus, since late last year with the producers Shocker and SO Jeggs and I've been working so hard on it that I just realized I had to take a break.
"It was also obvious to me that taking a break in Nigeria wouldn't make sense because I would still have the urge to be going to the studio to work on the ideas I keep getting and that's why I decided to go on vacation in Amsterdam so that I would be able to have a real break from all the hard work."
Speaking further, the singer-rapper, who is also the CEO of Blood Entertainment, said, "Once I'm back in Nigeria, it will be to complete work on Colossus. We've done a lot of work on a lot of songs but we still have to finish work on them and once we do that, I can assure you that Colossus will be 2015's biggest album."
Saying that different genres of songs will be on Colossus, he concluded that "I'll just tell everyone to watch out for Colossus. It's gonna be really massive lyrically and musically and blow everyone away."