Arise News Debuts On DStv, GOtv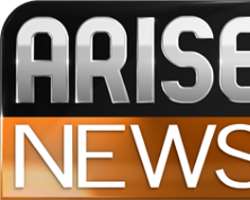 BEVERLY HILLS, January 26, (THEWILL) – Emerging international news and entertainment channel, Arise News will be available on DStv and Gotv on channels 416 and 44 respectively, according to a statement by MultiChoice.
"ARISE NEWS will be on DStv channel 416 and GOtv channel 44 respectively, and will join other global news channels such as CNN, BBC, SKY News, CCTV, Al Jazeera, CNBC and Bloomberg on the MultiChoice platforms. ARISE NEWS delivers real time international news and entertainment to global audiences, 24 hours a day, seven days a week across all platforms and celebrates diverse communities in all continents including all that is African and Afropolitan," the press release said.
Managing Director, MultiChoice, John Ugbe said on the launch of ARISE NEWS, "We are glad to welcome ARISE NEWS to our bouquet of news channels on both DStv and GOtv. We have demonstrated over the years our support of 'Africanness'. And what better way to prove this than to celebrate as ARISE NEWS comes home to Africa through our network. We have no doubt that uptake will be immediate, owing to its success across countries and continents for their immediacy in breaking news about world events."
Nduka Obaigbena, Chairman and Editor-in-Chief of ARISE NEWS said: Today ARISE NEWS comes home to Africa by launching for the first time on African platforms following on its very successful launch in over 80 countries and territories including the United Kingdom, West, East and Central Europe, Middle East, North Africa and the United States telling the stories and experiences of underserved communities especially of the African continent while covering issues of the day and world events that matter.