We Shall Never Immunize Our Children: Superstitious Africans Vows.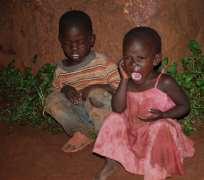 Uganda Government is on a national wide campaign of immunizing the Children against deadly diseases, but the nationals have opted never to take their children to 'Grave' and this has brought a rift between the Ministry workers and the communities.
The people of Uganda especially the peasants in the villages vowed never to take their children for immunization.
They cited reasons ranging from Government's failure to educate them about the essence behind immunizing their children and if the intention is not to control their number.
This is not the first time that such a fracas has happened in the country of 35 plus million people majority of them do survive on subsistence farming in the villages.
Last year the Government had programs almost similar to this one of immunization, however, people especially the peasants who are the majority, shunned it as they did to I.D and census programs.
The Government declared a national campaign to give its people identification cards as the case is in other countries the world over.
This campaign was aimed at accelerating the service delivery to the people; however, they did not turn up except a handful of them.
Being ignorant and influenced by some politicians and other myopic and selfish citizens, they advised peasants not to dare giving out information about them selves and their belongings as this, according to them was a campaign of the people in the ruling party to take away there property and belongings like land and others.
They 'peasants' , opted not to go for registration to obtain the national identification cards and many of them remained un registered up to date.
The Government also unrolled a campaign of national wide census to know the number of the population but still many snubbed it.
One person was heard asking why the censorship personnel were busy asking them what they posses instead of asking for what they don't have and they give them.
They decided to close their houses and hide in the small gardens, and in the bush far away from their homes, such that when the data collectors come they could not tress them.
On the issue of immunization the peasants vowed never to upset their ancestors, to them the spirits of their fore fathers had already immunized them so many years back and their families.
No ways they were going to accept government officials to inject what they called poison to their beloved children.
Some urged that they did not have trust in the vaccines which were to be administered to their children.
One angry woman was heard shouting 'we can not give out our children to be crippled by these injections; we have experienced such before so we can not trust again'.
Officials resorted to other means, including the use of force; they could find children on the streets and other places of worship like churches and immunize them with or without the consent of their guardians.
And according to one official from the Ministry of health a good number of children were immunized.
To sum it up much as the peasants are to blame for the failure to embrace the government development programs, the latter is also partly to blame.
You can not just dream of an idea over night however good it can be, and the following day apply it to the ignorant peasant's forcefully.
People need to be educated before, on the importance of having a national identity, why they have to be counted, immunized and so many other programs, other than just forcing them like criminals as the health official did in some villages.
Several work shops must be held to train, people who are going to carry out these activities, then, let media be hired through drama and songs, such that the information can reach the intended people.
About The writer: Abubakar Sematimba is a Ugandan by nationality, a Teacher and Journalist. He is the founder of Blessedly-Ugandan, a Campaign that promotes home made products and services.
Contact: +256 758601017
E-Mail: [email protected]
Disclaimer:

"The views/contents expressed in this article are the sole responsibility of

Abubakar Sematimba

and do not necessarily reflect those of The Nigerian Voice. The Nigerian Voice will not be responsible or liable for any inaccurate or incorrect statements contained in this article."
Articles by Abubakar Sematimba