Nigerians : Are You Better Off Today Than You Were Four Years Ago?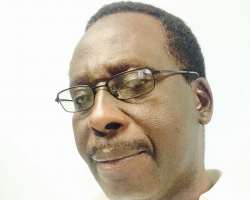 During the American Presidential Debate in 1980 with the incumbent President Jimmy Carter, President Ronald Reagan pointedly ask Americans: "Are you better off today than you were four years ago?" Ever since, the now famous quote features prominently every four years in the American political dialogue. That one-liner has become a line that people all over the world can personally relate to in many ways.
When President Goodluck Jonathan assumed the presidency May 6, 2010 after the demise of President Umaru Yar'Adua, the country was mired in political debacle and economic crisis. Corruption was rife, a persistent economic slide was uprooting the very foundations of survival of Nigerians.
Nigerians were ready to try the "shoeless" native son of Otuoke. Jonathan was elected by a landslide in 2011. That was the beginning of the end of a society that bears resemblance to a country with a government. By the end of Jonathan's four-year term, his presidency has become a misery memoir. I hope Nigerians had learned their lessons.
History is a an amazing guide if Nigerians choose to pay attention to it. But sadly, many Nigerians don't give a damn. The coronation of Emperor Jonathan not only meant the ascension of corruption that ruined our country, his administration is staffed by professional and career criminals. His four-year reign has proved beyond any reasonable doubt that Jonathan is a terrifically horrible president and a liar.
The Jonathan era is an era of economic disaster. A black hole debt was created by supper corruption, hyper inflated contracts, zero accountability, and complete looting spree by the president and his men and women. The reality of the Jonathan administration is that the richer (treasury looters) get richer and the poor poorer. Out of 170 million people, only about 12 Nigerians control one-eight of the entire Nigerian economy. "And within this period that the PDP has been ruling," boasts Jonathan, "we've actually created a number of millionaires and billionaires."
The middle class – if there is still any class by that name in Nigeria – has further slid into an economic abyss. Most Nigerians are now living on the edge of poverty. In fact, they are now fully and permanently embedded in that poverty cycle. It will take them many years to come out of the hole – if they ever come out – if they keep on electing political species like Jonathan.
Nigerians are denied equal opportunities. Indeed, no equal opportunity exists in Nigeria. In the present set-up, the opportunities that are available require more than just desire and talent. How can the marginalized get started without a bankroll to create the opportunity?
Pensions which were one time a guaranteed life saver no longer proved a rainy day insurance for peace of mind when the time comes to rely on it. University and college graduates and other professionals are now living with their parents longer than at any other time in our country's history. The jobs are disappearing faster than they are created.
The short time General Muhammadu Buhari was in office though no equal distribution of wealth, but of safety security from armed robbers, abductors, kidnappers, hired assassins and the men of the underworld. Despite his high-handedness and the abrupt termination of his regime by the tooth-gap aged despot and the destroyer of our nation, Ibrahim Badamosi Babangida,Nigerians find a way to love him, even now more than then.
Here is GMB achievements put together by SaharaReporter's comedian-satirist Adeola Fayehun in her show "Keeping It Real With Adeola Fayehun." The achievements were attained in just two years in office between 1983-1985.
• Before becoming head of state 1976-1978, as petroleum minister and head of NNPC, under Gen. Olusegun Obasanjo, he built 3 oil refineries in Warri, Port Harcourt and Kaduna. Nigeria was refining and exporting its own oil. He also masterminded the construction of 20 oil depots across Nigeria, laying over 3200km of pipeline
• He took over from a very corrupt government (similar to what we find ourselves in today), and ensured as many corrupt public officers as possible were punished.
• He reduced inflation from 23% to 5%. The Naira was closely competing with the dollar and Pounds and Nigerians could spend Naira abroad. He refuted pressure from the IMF to devalue the Naira to promote trade and resolved to trade by Barter in the international market. This lead to the IMF supporting the candidacy of IBB, who helped carry out their plans
• He instilled culture of discipline in Nigerians, and promoted the principle of first come first serve, regardless of position or class and discouraged oppression
• Under Gen. Sanni Abacha's regime, as chairman of PTF during his four-year reign, he constructed more roads than the Nigerian government has constructed in the last 15yrs, along with construction of several amenities.
• He remains the only past president without foreign accounts and series of real estate in the country and beyond the shores of Nigeria. He has one house in Kaduna and another in His home town. He has no oil well and currently lives on pension. He discovered late Dora Akunyili (R.I.P) and nominated her for Position in NAFDAC
• He is the First head of State to put women in cabinet and there's no proof of him being an Islamic extremist as widely rumored, in fact he has domestic staffs that are Christians.
Though one thing is indisputable: Jonathan's Transformation Agenda has ruined Nigeria. Nigerians must wake up to the reality of the choice before them. Of course, voting GMB is not the only answer. But in the short term, it is, to be candid. The engagement of Nigerians in the politics of politics is essential if we want a change.
I am not blind to the fact that Jonathan and PDP have the money but we have the people. The problem with us is that we allow their money to show up more consistently than our own people do. In this election cycle, this must stop.
We have just a few weeks to motivate people to get out the votes on election day. I believe I am doing my part and I hope every progressive element is doing his/her part. Let this article do some talking for you and I hope every Nigerian especially the oppressed poor understand the importance of this election too well.
It is dreadful and dangerous if the Jonathan and his PDP ATM cash dispensers beat us to the polls on election day and we don't vote, they win. If they win, then the question that was first asked in 1980 and I'm asking now won't need to be asked gain because we would know the answer.
So, are you better off today than you were four years ago?
Are you?
[email protected]

Disclaimer:

"The views/contents expressed in this article are the sole responsibility of the author(s) and do not necessarily reflect those of The Nigerian Voice. The Nigerian Voice will not be responsible or liable for any inaccurate or incorrect statements contained in this article."