Education is your Future, Obi tells Students at Obollo-Eke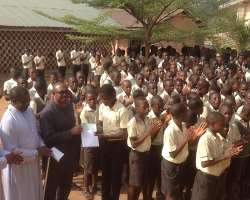 The Deputy Director General of the PDP National Campaign Council and the former Governor of Anambra State, Mr. Peter Obi has challenged the students of St. Patrick's Secondary School, Obollo Eke in Enugu State to strive to achieve greatness in their lives by taking their education seriously. He was speaking when he visited the school recently.
Obi who presented a cheque of two Million Naira to the school said it was his little contribution to them for infrastructure up grade for quality and sustainable training aimed at making them better citizens in future. He noted that with good education, they would have the requisite known-how to compete with others in future.
Obi said the money he had continued to give to schools were donation to him from individuals and corporate organizations, which he derived joy and satisfaction donating to schools because God had already provided him with all his needs in life.
Speaking, the Manager of the school, Rev. Fr. John Martins Chikani said he was overwhelmed by emotions for a former Governor to travel to the remote part of Enugu to assist their school. Presenting him as a good example of christian witnessing, he assured him of the prayers of the school for him at all times.
Mr. Peter Obi was accompanied to the school by Dr. Okey Ikechukwu, mni, who described Obi's gesture as the highest exemplification of community service.
Caption for the pic
The Manager of St. Patrick Secondary School, Obollo-Eke , Rev. Fr. John Martins Chikan ( left) at the presentation by Mr. Peter Obi ( middle) of the cheque of N2 million Naira to the school represented by the Senior Prefect of the School, Master Aba Candidus ( right) amongst other students