Present under-achievement mars Jonathan's reelection campaign – Garba Shehu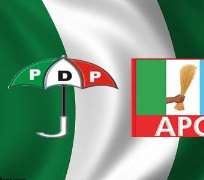 The Director of Media and Publicity of the All Progressives Congress (APC) Presidential Campaign Council, Mallam Garba Shehu, has said the failure of President Goodluck Jonathan to deliver democratic dividends to Nigerians was at the root of the failure of the Peoples Democratic Party to base its campaign on issues.
Garba said because the government of Jonathan had failed, that was why non-issues and abuses have become the order of the day in the campaign of the PDP.
Speaking when he had in audience members of the Guild of Corporate Online Publishers in his office in Abuja, Shehu said: "Ordinarily, Jonathan's campaign should have been based on his achievements.
"They are running against their own records.
"So it would have been for them to present their scorecards to Nigerians rather attacking the presidential candidate of the APC, Alhaji Muhammadu Buhari, who has not attacked anyone."
Shehu said contrary to the position being publicised by the PDP, Buhari will not tamper with the free speech of Nigerians.
He said: "Men change.
"Buhari was a military man, but now democrat.
"He will not even censor online.
"The censorship of online will come from the community of users itself."
Shehu said the APC will work with the online publishers to deepen online journalism.
A former Commissioner for Information in Lagos State and prominent member of the APC, Dele Alake, who was also at the meeting, thanked the online publishers for taking time out to visit the party.
Alake said the coming together of professional journalists to form GOCOP was a good development, adding: "It is a symbol of good things to come.
"Online journalism is the present and future of journalism.
"Most people of voting age are now on social media.
"So whoever takes online media with levity is undoing himself."
Alake described Buhari as an "acerbic leader.
"He has held plump positions and remains simple.
"He is a disciplined man.
"The fulcrum of the problem we have in this country is indiscipline.
"Now we have an epitome of discipline.
"What we need in this country at this critical juncture is someone who can extricate us from this abyss.
"Governance is not rocket science.
"In four years we can get there.
"We can meet the basic needs quickly by providing low hanging fruits.
"Then move on to medium and long term policies, which can be considered as the high hanging fruits.
"Jonathan lacks the courage to rule this country and also none of his subordinates can look him in the eyes and tell him the truth.
"The country needs a drastic change.
"Especially for our kids."