President Jonathan's late sister for burial tomorrow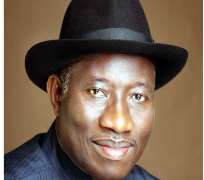 President Goodluck Ebele Jonathan's younger sister, Mrs. Nancy Jonathan-Olei who passed away on Sunday, January 4, 2015 is to be buried tomorrow, Friday, January 23, 2015 in Otuoke, Bayelsa State.
According to a burial programme issued on behalf of the Jonathan and Otazi families of Otuoke, Mrs. Jonathan-Olei's body will leave the Otuoke Comprehensive Hospital Mortuary at 9 am for her residence in Otuoke.
Mrs. Jonathan-Olei's remains will be received by members of her family at the residence and moved to the Dame Patience JonathanSquare for a Service of Songs scheduled to begin at 10 am.
A funeral service for the late Mrs. Jonathan-Olei will be held at the St. Stephen's Anglican Church at 1 pm after which her remains will be interred.
President Jonathan is scheduled to participate fully in Mrs. Jonathan-Olei's burial programme.
She is survived by her children, grand-children and siblings including President Jonathan, Sir Ariolo Ebele Jonathan, Mr. Evans Jonathan, Madam Obebhatein Jonathan, Mrs. Dorcas Awo, Mrs. Stella Donald, Mrs. Aziboni Abuge and Miss Dagao-apu Jonathan.