Buhari: PDP disowns Fayose over death wish advert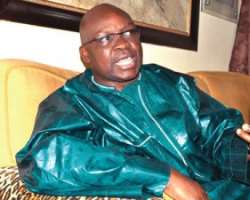 The Peoples Democratic Party (PDP) Presidential Campaign Organisation has washed its hands off the controversial advertisement published on Monday in some national dailies in the name of Ekiti State Governor, Ayodele Fayose.
In the advertisement, which has generated public outcry, the Ekiti State governor cautioned Nigerians not to vote for All Progressives Congress (APC) presidential candidate, General Muhammadu Buhari.
Governor Fayose in the advertisement detailed names of former military heads of state and civilian president of North-West extraction, who died in office. He further claimed that the same fate could befall the APC presidential candidate, if voted into power.
Reacting yesterday at a press briefing in Abuja, Director Media and Publicity of the PDP Presidential Campaign Organisation, Femi Fani-Kayode, declared that the party and its presidential candidate, Dr. Goodluck Jonathan, were not privy to the controversial publication.
He further noted that the message portrayed in the advertisement was the personal opinion of the Ekiti State governor.
Fani-Kayode said: 'Governor Fayose is a distinguished leader of our party, a democratically elected governor and someone we have immense respect and affection for and he released this advertisement in his own name. He did the advertisement in his own name and that represents his personal opinion, which he is entitled to.
'What I can tell you on our part as the Presidential Campaign Organisation, it doesn't represent the opinion of the Presidential Campaign Organisation or indeed the president.
'It is his opinion, which he is entitled to, and he is somebody that we have immense respect for.  He is a leading member of the party, I have spoken with him and we respect him but for anybody to suggest that this is the position of the Presidential Campaign Organisation or President Goodluck Jonathan, that will be most unfair.
'If we wanted to say something like that, we will say it without any kind of apology, but of course, we will never say that because we believe in the sanctity of life and old age is not a function of how long you will live. It is important that we recognize the fact that age is not an indication of how long somebody will live.'
The former Aviation minister, however, restated his stance that the Jonathan campaign organisation would continue to make an issue of General Buhari's eligibility for the exalted office of president.
'We believe strongly that we must continue to show immense respect to the person of General Buhari in terms of his  person and his health, though we believe it is important to always raise question about facts; you know what these questions are and we will continue to  raise them,' he said.
Meanwhile, Ekiti State Governor, Mr. Ayodele Fayose, has said he has no apology for the controversial advertisement published in some national newspapers on Monday, warning Nigerians of the consequence of electing Buhari as the nation's president.
In a press statement issued by his Chief Press Secretary, Mr. Idowu Adelusi in Ado Ekiti on Monday, Fayose said Buhari was an analog man, an old model.
Fayose spoke further: 'You will recall that All Progressives Congress (APC) confirmed that Buhari will travel out. I have been vindicated in my sincere and nationalistic assessment of Buhari.
'The APC should declare the state of health of Buhari. The same way Obasanjo said Yar'adua was healthy but later died.  Buhari is a spent force; he should display his medical and educational certificate if he is sure of himself‎ and to dispute this fact.
'The APC has asserted in a national newspaper that Buhari is to be flown out for medical check up. Above all, Buhari is seeking a public office and Nigerians need to know all these,' Fayose declared.