2015: I won't disappoint Nigerians, says Jonathan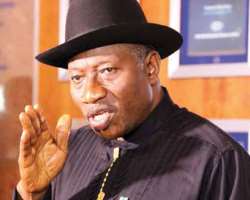 President Goodluck Jonathan yesterday assured that his administration would vigorously implement policies, programmes and projects that would ensure the rapid development of the country's solid minerals and agricultural sectors if re-elected into office.                           . 
Jonathan made the claim during a courtesy call on the Emir of Gusau, the Zamfara State capital, Alhaji Muhammad Kabiru Danbaba as part of his campaign tour to the state.
   He added that the Federal Government had concluded plans to collaborate with states that were blessed with mineral resources in commercial quantities, with a view to ensuring full development of the sector.
   Jonathan assured Nigerians that if re-elected, he would not fail Nigerians just as he pledged better security, economy and job opportunities for the betterment of citizens irrespective of the political linings.
  He said: 'Your royal highness, I want to thank you for the honour and warm reception given to my campaign entourage in your palace. It is part of our plan if we are re-elected to support the state in developing mineral resources that are in abundance in the state. I also want to assure you and Nigerians at large that we will not fail this state and Nigerians.'
  He further stressed that he was passionately committed to the full development of Nigeria's solid minerals sector because of its huge potential for boosting the nation's economy.
   He said that the present government had done a lot under its agricultural transformation agenda through the provision of free tractor services to farmers in the country, in addition to the provision of fertiliser across the country.                 .
   Responding, Danbaba thanked the President for the visit and wished him peaceful and successful campaign in the state. 
   He added that Zamfara State being a farming area was proud of the president's   support for the agricultural sector and the SURE-P programme, which had impacted positively on the citizens.