Urhobo monarchs pledge to back Jonathan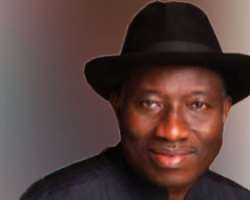 Traditional rulers of the 24 kingdoms of Urhobo nation, Delta State, at the weekend endorsed President Goodluck Jonathan for the February 14 presidential election.
Speaking during the visit of Minister of Niger Delta Affairs, Dr. Stephen Orise Oru to the Forum of Urhobo Traditional Rulers at the palace of the Ovie of Ughelli Kingdom, spokesman of the forum, Emmanuel Sideso, Abe I, the Ovie of Uvwie Kingdom, reiterated the resolve of the monarchs to give their total support to President Jonathan in the polls.
He added that the traditional rulers were looking forward to an opportunity of meeting with the President soon and assured that they would do all they could to ensure that Urhobo nation gives him block vote to enable him continue his good works for Nigeria.
Sideso commended Oru for his creditable performance as a minister and for effectively representing the Urhobo nation satisfactorily in the government.
He gave assurance that the Urhobo traditional rulers would continue to support him through prayers to enable him excel more in the performance of his duties.
Addressing the traditional rulers in Urhobo language, Oru x-rayed the achievements of the transformation agenda of the President, which he said, have impacted much on the rapid development and transformation of the various sectors.
Oru extolled the rare gift of leadership qualities and inherent democratic attributes of President Jonathan, which he said, have served as veritable instruments in promoting peace, growth, development and democracy in spite of the unwarranted challenges of insecurity in the country.
He appealed to the Urhobo traditional rulers and the people of Urhobo nation to support and vote en-masse for President Jonathan to enable him continue his good works for the good and well-being of Nigerians‎. The Guardian